Blog 2022 - Part Two
WeatherWool news and topics of interest.
BLOG entries by Ralph unless otherwise noted. Feedback welcome!
-- Ralph@WeatherWool.com / 973-943-3110 (mobile)
2022-12-31 ... Happy Ending
Because of the wool, many wonderful people have come into our lives.
A few days ago, I was speaking with a new customer, a medical doctor. A second call came in, from my daughter-in-law, Carla, who told me my son Zack was feeling very poorly with the covid. I put Carla on hold, intending to break off the call with the doctor, and I told him why. The doc said something like "Treating covid is my specialty. I have patients all over the world. Let me help!" And he sure did!! He prescribed medicines, and sent Carla a very detailed set of procedures for Zack to follow. I spoke a little while ago with Zack, and he was near complete recovery.
2022-12-30 ... Talking with a Rigger
This morning I got a call from a local customer who received a Hooded Jacket on Wednesday. He called to tell me about his first day wearing the wool, and to make an appointment to visit us on Saturday to hopefully pick up something else. Sean is a rigger at one of the most famous show-biz venues in NYC. The riggers unload and load the trucks that carry the materials for the sets. Sean's day starts with a drive from home to the bus stop, where he waits outdoors. On the bus, the temp is about 90F/32C. [I commuted by train, where it was the same story. Crazy warm in winter. I don't know why!] Then he walks a mile to work. The work is indoors, but the huge bay doors are mostly open, creating a wind-tunnel. And so the indoors is the same as the outdoors, only winder, with no sun. Sean said he'd been hassling with off and on coat, carrying the coat, putting it in his lap on the train, not comfortable while walking. Anyhow, Sean called to tell me that the Hooded Jacket was comfortable the whole day ... driving, waiting for the bus, on the bus, walking to the theater, working all day. Then in reverse, getting home. I love getting calls and notes from people who suddenly discover what wool can do!
Head and hot water restored here. Back to normal! I hope I can catch up with work by Tuesday.
2022-12-29 ... Wool Handles the Unexpected ...
One of the things I've always liked about wool is how it handles the unexpected. I did not expect "the unexpected" to occur here at home. But ... there's a lesson!
Our boiler quit on Saturday afternoon, which was Christmas Eve. So, not much to be done about that over the Holiday weekend. But the boiler guys have been somewhat casual about getting the new boiler working, maybe because the temp has really moderated in the last coupe of days. We still have no central heat, but it's been unseasonably warm, so it doesn't matter much. The situation has been instructive. Light T-Shirt and a CPO all day long, indoors and out. Most of the house, temp is mid-40s (7-8C). Office, with fireplace really going, the temp is 78F/26C as I write this. Since the boiler signed off, outdoor temps have ranged from 8F/-13C to about 52F/11C.

The hot water heater busted last night. So the boiler crew got another work order. Nice timing. Funny.
and don't change that's 2022-12-27 ... Heat Coming Soon!
The last three days have been interesting. As mentioned in previous entry, our boiler "retired" on Saturday, which was not only Christmas Eve but also the coldest day we've had here in a few years. Not REAL cold, but 8F/-13C is cold enough without central heat.
So we've been wearing wool indoors more than usual, and it's been enlightening. The office can be kept warm enough if we keep feeding the fireplace. I confess to a foolish love for having the flame right here with us, instead of confined in a stove. The stove would be about 10 times more efficient. But we don't really have a place for a stove, and the fireplace was built to heat the room (1890s construction). Several years ago, the town took me to court for having too much firewood, and they didn't believe that we burn 10 cords a year. But we do. Last year we bought firewood for the first time in maybe 20 years because we just didn't have the time to split. I bought six 'suburban Jersey' cords, which means about 5 real cords. So last year it was easy to see we really do go through about 10 cords a year.
These last three days I've been wearing the wool indoors and out, which is not unusual anyway. But now, the office, because we burn ferocious amounts of wood, has been warmer than I expected. I didn't think, in an unheated house in winter, I'd be able to keep the office this warm. Almost normal, even with the rest of the house at about 42-46F (about 8C). It's nice to be comfortable at my desk in fairly typical indoor temps, comfortable in the rest of the unheated house, and comfortable outdoors in below-freezing temps ... all without changing clothes at all, except to put on a WeatherWool Ball Cap when I go outside. And of course sleeping under WeatherWool  Blankets at night.
The furnace guys are here now, working to install a new boiler. They are directly below the office, and I've heard a few "#$#@!! I can't believe this!" sort of remarks. So I know it has not been smooth sailing. Looks like we won't have heat until tomorrow! But we have electric and our comms are in good shape and my fingers are warm enough to type. Not sure if there is anything that will stop my talking ...

2022-12-25 ... Merry Christmas and Happy Hanukkah
As a company, we mostly do not send Holiday emails because it doesn't quite feel right to me. Many other companies do, and nothing against them. And it's easy to see where some companies would feel it isn't right to let special days go by without note.
Something I never would have expected, tho, is that many customers send Holiday greetings to us! Of course we acknowledge them all, and all these nice notes convince me that I need to write something here.
We celebrate both Hanukkah and Christmas, and the specific Holiday situation this year is that tonight, Christmas Night, is the beginning of the last day of Hanukkah.
New Jersey isn't getting anywhere near the serious weather that is covering much of the rest of the USA, but our overnight low was about 8F/-13C, which is a little colder than the coldest we see in a typical winter. Jersey's mild climate with plenty of rain is surely a main reason it is the most densely-populated State. But we definitely have enough winter that it needs to be reckoned with, and it so happened that our boiler quit yesterday afternoon.
Given the weather and the Holidays, it was for sure bad timing with the boiler, but not that big a deal. We have fireplaces and electric heaters and we'll be fine until a new boiler is installed. The effect on WeatherWool, tho, is that I can type only about half-speed without good heat. I'd been planning/hoping to do a lot of catching up, workwise, over the long Holiday weekend. That's mostly not going to happen.
The guy who installed the boiler 24 years ago (we've been here for 38 years) picked up the phone when I called him at about noon today (Christmas Day), and he came right over. We worked together for only a couple of days, back in 1998, but we remembered each other, and he remembered getting the previous furnace out of the basement had been very difficult. Twenty-four years is a pretty good stretch, and the man who stood before me is about to turn seventy. But it wasn't just the time that had passed, and I could see clearly a melancholy that had not been there in our younger days. He'd lost his son.
Today and tomorrow, I am going to be catching up, but not with work -- with Friends and Family. An important way to honor Christmas and Hanukkah.
PS --- As far as not having central heat for a bit, our house was built in the 1890s, before central heat. The back of the house has a lot of oversized windows, and faces South. There are large overhangs that shade out the summer sun pretty well. But in winter, we have some of our clearest, sunniest days. And because the winter sun is much lower in the sky, it streams in the windows, all day long. We really appreciated all that natural heat today!! It's strange to think people now often build without regard to the sun.
PPS  We are about as prepared for no furnace as we can be.  Ralph has a huge stockpile of seasoned wood, we are wearing our wool thermals and CPOs, and we have our WeatherWool blankets keeping us comfortable at night.  Warm and happy here and wishing you all the same. -- Debby 
2022-12-23 ... Conversation Piece
We've had numerous reports, including a couple this week, of how "the public" sometimes reacts to Lynx Pattern. One customer wrote to tell us people keep wanting to rub him. This morning, a customer was having breakfast on Long Island (New York):
"... wearing my MidWeight Lynx Anorak. I was literally pawed, without preamble, by 3 different strangers, including a young man working there. An avid hiker, he simply said 'What is that. I have to have one!' I gave him the info which he typed into his phone on the spot. I warned him 'They're bloody expensive, but well worth every penny.' He just replied 'I'll save.' So there you have it. The quality of WeatherWool speaks for itself, loud and clear."
I wrote back to our customer that I'd heard similar stories previously, and that I kind of feel as if I should apologize. But at least I hope such incidents are amusing. This is not something we ever anticipated. The customer replied he finds it hilarious that the pattern and the look of the Fabric are so enticing.
2022-12-21 ... Heat Straps ... Annual Slimefest
Jordan Lang from Heat Straps stopped by. Jordan had worked with Nicks Boots and our Fabric to make the Patriot Jacket recently. Now, Heat Straps is developing a Vest lined with our FullWeight Drab Fabric.
Jordan from Heat Straps shoulders a roll of FullWeight Drab Fabric
This afternoon I got a call from someone who thought he'd placed an order with us. A friend had sent him a link that he believed would enable him to purchase one of our Al's Anoraks. He paid $42.99 a month ago, and wanted to know where is his Anorak? By the time he called, he'd pretty well figured out he hadn't actually placed his order with us. For the past three years, there has been a company of slimeballs stealing video and still footage from us and others in order to sell an Anorak. I did speak with one guy who actually received one of the slimeball Anoraks ... he said it reeked of formaldehyde and wearing it made him ill.
2022-12-19 ... More Batch 7 Fabric ... Custom Buttons ... Another Book!
Today, Debby and I drove the three hours or so up to American Woolen to pick up some more of the Batch 7 Black and Drab FullWeight Fabrics. Owner Jacob Long usually helps me load. When Jacob grabbed a roll off the dolly to carry into my trailer, I stopped him. Last time I'd picked up, Jacob wasn't in town and Wendy, who handles a lot of the details of shipping, had shown me the dolly can be pushed all the way into my trailer, and then the rolls of Fabric will slide right into position, with no toting. Jacob was surprised, but willing to give it a try. I have to smile that Wendy's "smarter is better" style was, again, definitely better!!
We have lots of things to do with this Fabric!!
Debby and I spent quite a bit of time with Jacob in his office, discussing the state of the American textile business in general and the wool business in particular. We need to find more and better ways to show people the virtues of wool!
Dutch, proprietor of Dutchware Gear, told us he will have a mess of Bronze Slot Buttons ready for us soon! We will use these, plus Titanium Slots, for Peacoats, North Maine Double Coats and perhaps more.
On the drive home from AWC, I had a long talk with Jason Ramos, founder of Product Research Gear, who has been testing and using WeatherWool for two years. Jason has huge experience and enthusiasm, and a very engaging personality. It's always a pleasure to speak with him. Jason has had a long career as a Smokejumper and performing Search and Rescue. Jason has also done a great deal of testing gear, training and consulting within the Forest Service and similar agencies. Smokejumping ... that is ... parachuting into remote areas to fight forest fires, is extremely intense work. You'd better be smart, fit, and well-equipped. And even then ...
Jason has just written a book, Smokejumper, and he is sending me a copy!
2022-12-18 ... USDA Survey
Yesterday's mail held a little bit of a surprise. The United States Department of Agriculture wants to know what WeatherWool has been up to. There were a lot of questions about our farming/ranching practices, and how much influence we have over farms or ranches. None of it really applies to us, but it was interesting to see what they want to know. Given that we are not  involved in farming or ranching, it seems as if answering NO to all those questions would have ended the survey. But for some reason they still wanted all the admin/company info on WeatherWool. And of course you MUST answer.
2022-12-17 ... Delivery to Factory8 / A Little Real Work
This morning, at about 6:30, I will head into NYC to drop off some stuff with Advisor JR Morrissey at Factory8. Normally, we would hitch the trailer to the truck and load up the previous afternoon. But yesterday was all rain and the day was otherwise filled anyway. So, I set the alarm for 3:30. I figured I'd need two hours to do it right, but I wanted a cushion. After three hours sleep, I woke at 1:30AM, and anticipation ruled out any more shuteye. So I got moving and was ready to hit the road with plenty of time to spare to take care of some other things before leaving.
A day or two ago I was speaking with a customer, and we agreed it's beneficial and important to, at least sometimes, get out from behind the desk and do some real physical work. I feel like our mental and physical well-being requires it. This morning I jackassed about 1000 pounds (about 450 kg) of freight. Not much at all, really. But I'm not accustomed to physical work anymore, and I guess part of me was thinking I should still have been sleeping. But it's a pleasant feeling getting a little bit of real work done. (JR and his helper will do almost all the work in NYC!)
I haven't had a physical job since I was 23, and at that age I never gave a thought to the physical aspects of the work. I would go running or lift weights for exercise. But my Dad and my Uncles, all of whom did physical work for a living, took a little bit -- just a little bit -- of a dim view of running and iron. And this little piece of work this morning reminded me of why they felt that way. Exercise for the sake of exercise isn't nearly as meaningful or satisfying as exercise in the course of actual work that produces something useful. It's also different. About 20 years ago, my friend Billy and I were trash-talking with my boys, who were working out a lot, on the high school football team ... the usual teenage-boy stuff. One of the boys got Billy going a little, and he said something like, YEAH, FINE. YOU COME OUT AND POUR SOME CONCRETE WITH YOUR DAD AND ME, AND WE'LL WORK YOU GUYS INTO THE GROUND. I was sure Billy was right. There was no way he could have kept up with the boys doing their kind of exercise-work, but I also knew there was no way my boys could have kept up for long doing real work with Billy (who was just being nice when he included me as a real worker), who is built like a bull and can work like a horse.
Of course, Pop had 5AM starts for years as a trucker. And his workday lasted 12 hours. I'll be home by 10AM and will probably go back to bed, and probably still feel like I did some real work.
2022-12-16 ... How Cold is COLD?
Every day I speak with people who want to know whether a given garment is going to work for them. Sometimes they must think I'm dancing, but it's really difficult to say what will work. I usually say what works for the typical person, but even that has to be qualified -- a lot -- by the anticipated base layer(s), activity, humidity, wind, and, most of all, the particular person.
I was thinking about this a couple of days ago when I went to the butcher. The outdoor temp was just above freezing, and, working at my desk in the warm office, I'd been wearing a light long sleeve shirt and T-Shirt, which are not really adequate for freezing temps. BUT, the truck is heated, I wasn't going to be outside much, and my original All-Around Jacket was in the truck if I needed it. That Jacket stays in the truck from September through May. And so I did my errand in shirt sleeves.
While driving, I noted what other people wore, and it was almost comical to see the variety. Most people were dressed for winter. Granted, the temperature being just above freezing, it wasn't warm. But it was sunny and still. There were people wearing winter coats and gloves in their cars. Most of the pedestrians also wore winter puffy jackets, hats, gloves, scarves. But there was a teenager shooting baskets without a shirt.
I spent a few comfortable minutes outdoors, speaking with the butcher, then home. The meat went into the deep freezer, where it is, at least for me, really cold. Re-arranging things to make room for the meat of the additional deer, my hands very quickly became very uncomfortably cold, and I wondered what was the actual temp in the freezer. After getting the meat situated, I placed a thermometer in there ... -20F/-29C. I was kind of happy with that reading, because I'd thought the temp was 0F/-18C, and I didn't think my hands should have gotten so cold so quickly. The freezer reading actually matches the coldest actual weather I have ever experienced, and for me, that was really cold. I've been in -10F/-23C in Alaska, in still, dry air, and it wasn't bad at all for short periods wearing just a light base layer and one FullWeight ShirtJac. In similar temps in Alberta, working outdoors all day, I was fairly comfortable while working, but had to keep all skin covered. And, I lost 20 pound (9 kg) in 10 days, in spite of consuming a lot of calories. For me, it seems REALLY COLD happens somewhere between -10F/-23C and -20F/-29C. But I talk frequently with Canadians and Alaskans that are habituated to much colder temps.
So ... how cold is COLD? It's up to you.
2022-12-15 ... Jerry Fisk
People who have an interest in knife-making will know the name Jerry Fisk. And a lot of people who don't know knife-making will also know Jerry's name. I am definitely in the latter category ... which makes for a little bit of a funny story.
A few years ago, I received a very nice note from, I thought, Fish Knives. I wrote back with THANKS for the kind words, and didn't think too much of it until a couple of days later, something went off in my head. I like blades a lot, axes in particular, but I didn't (and still don't!) know knife-making. However, there was ONE knife-maker whose name was familiar because his work is world-famous. And so I figured I'd better double-check that note. Well, whaddayaknow ... I'd misread the note and it had been sent by Jerry Fisk!
Jerry posted this photo to his Instagram a couple of days ago.
Since then, I've been on the phone quite a bit with Jerry, and he is a WeatherWool Advisor. It's really exciting for us that someone whose work is so highly regarded is willing to be associated with little old us!
Jerry likes to laugh, and doesn't mind being the target. He's actually been named a "National Living Treasure" by the Museum of World Cultures, and I've enjoyed asking him how old you have to be for such a designation. Jerry was born the year before me, so I try to get my mileage out of that.

Jerry is a master craftsman, and about half of the world's Master Blade Smiths have been his students. To have our work recognized by Jerry makes us feel we are doing something right.
2022-12-14 ... BOOK REVIEW!??
Not really a book review, but sort of. I was a little under-the-weather a few days ago, and took the opportunity to read LOBSTER WARS, by Mark E. Greene. It's a novel about "reality TV" and its effect on the lives of the people -- mostly the lobster fishermen -- in Southern Maine. It's entertaining, enjoyable and fast-paced, and I think real book-reviewers would categorize it as summer/beach reading. GREAT WORK, MARK!!
I mention the book here for several reasons:
Mark is a WeatherWool customer, and we've spoken a few times. After retiring, in addition to writing, Mark launched a podcast, Mark In The Wild, and honored me with an interview in March of this year. Maybe because both of us are on our second (or subsequent) acts, Mark sent me an ADVANCED READER'S COPY of the novel. WOW! Never had one of those before. THANKS, MARK!!
WeatherWool has been on Reality TV a lot. We've never been directly involved, but our clothes have gotten a lot of air time, and we have gotten to know some of the people, and even think of them as friends at this point. So we have had a glimpse at the effects of reality TV. It's all been good, I think, for the people we know. Not necessarily so in the novel.
Some of our Advisors are best-known for their appearances on reality TV, and some of our strongest endorsements have reality TV roots, such as this eval, based on experiences in remote and frigid Alaska, which Debby was just watching.
Young Michael Kristy was here about ten days ago. He is a film-maker and editor, and is working on his own clothing line which he intends to be the best ever. (I loved hearing that!) Michael plans to use some of our Fabric in his Iron Snail garments. He did a 12-minute video based in part on his visit here. We will be working with Mike. His energy and fun-spirit are infectious, and he is sooooooo agile with the video. BUT ALSO, Michael bought a couple of garments, one of which is for his Dad, A MAINE LOBSTERMAN. So hopefully, we will soon have some wool on a lobster boat, where I do not think we have ever been before.
LOBSTER WARS is set in Camden, Maine, where Mike Dean, the very first WeatherWool Advisor, hangs his hat. Denali and I spent a weekend with Mike in Camden in 2019.
2022-12-12 ... Nice Coincidence, Again
Just got off the phone with a customer from Kodiak Island, AK, who ordered an Anorak. Everyone on Kodiak appreciates what Nature offers. They all fish and hunt and observe. I asked the caller if he knew Mike Horstman, on History Channel's Mountain Men Show. At first, he didn't know who I meant, but then he realized he does know him ... explaining that everyone on Kodiak does sort of know each other enough to talk. It's interesting that he didn't know about the TV Show. This is the 2nd person from Kodiak who has contacted me about an Anorak who knew Mike, but wasn't contacting me because of Mike.

2022-12-11 ... SERE
There are a bunch of US Military SERE Instructors wearing our Anoraks, and I freely admit I love that. About 15 months ago, our Advisor Ziggy, from UK Special Forces, set up a WarriorWool donation to John Hudson. From John's website: "John Hudson FRGS is a Survival Instructor, Broadcaster, Writer, Public Speaker and Training Consultant whose specialist work takes him to some of the most remote and extreme environments in the world. Based in Cornwall UK, John is the British Military's chief SERE (Survival, Evasion, Resistance & Extraction) instructor and has been a resident survival expert on two series of Discovery's prime-time show Survive That, a.k.a Dude You're Screwed in the USA, putting his own resilience to the test on camera in front of millions. He also regularly works as a survival consultant on TV development projects."

In John's Instagram post from a couple of days ago, he explains that he is using a Kamal to measure celestial angles. For more info on the kamal, check out @thenaturalnavigator and his site. 📸 @plymseayaker 
2022-12-10 ... Interesting Situation!
I was also feeling pretty poorly for a couple of days, so Debby was busier than usual, by a lot. Great Work!! Thank You, Sweetheart!
The email on my phone needs to be upgraded.  I was going to wait for Alex to come back, because he handles my phone stuff. But last night, we had a power outage, and our office internet is gone until Verizon gets back to us. Which may be a while. So I am doing this blog update from my cell phone internet, but Shopify tells me my browser is out of date, although the browser tells me it's running the latest version.
Without the web in our office, we cannot process orders. And without email in the office or on my phone ...
Today will be interesting!
2022-02-08 ... Shorthanded for a few days
Alex is headed for Wyoming to help on Zack's elk hunt. And Alex's wife and daughter aren't feeling well, so Debby will be caring for them. Anything that ships in the next week won't be packaged as nicely as usual!

Black and Cream/Natural Reversible Watch Caps are now in stock. 
2022-12-07 ... Assumptions, Prejudices
About 15 years ago, we had a little piece of land in Pennsylvania, about two hours from home. Coming from a family of farmers, I couldn't help but think how nice it would be to have a little orchard and some vegetables growing there. So we had a local ag student work the land for us, and he did some great stuff. One day he told me he'd planted some potatoes. I thought to myself, "Well, that's something of a waste. But done is done." So I just thanked him and didn't really think about it until months later, when he told me the potatoes were ready. I'd never dug in the ground for food before, so that was a nice new thing, and it was kind of fun. It reminded me of clamming, something I very much enjoy. But when we got home and ate some of those potatoes, we were shocked at how good they were! And then I realized how foolish I had been.
As someone who grew up eating all sorts of freshly-picked fruits and vegetables, I should have known. But I'd never experienced a fresh potato, and had never given them a thought. My bias/prejudice/assumption was so deep and held so long that it did not even occur to me that it might be incorrect. I'd never thought about it. And I absolutely should have thought about it. I absolutely should have had a suspicion. I absolutely should have asked Jamie why he planted potatoes. But my viewpoint was too deep-rooted for any of that to occur to me until ... WOW!!
And I think this is the way it is for a lot of people with wool. Everyone has had some experience with wool, probably going back to childhood, and mostly those experiences have been with scratchy wool, wool blends, cut-rate fabrics. So they think they know wool in the same way that I thought I knew potatoes. If I can get people to check out our stuff, they always "dig our wool" the way I did those potatoes.
2022-12-05 ... Never on Ebay ... Phone Insulation
A couple of days ago, someone phoned to place an order. He said he's been following us for a long time, which is something we hear regularly. But he also said he'd been watching for us on Ebay, and that we are never there. We don't monitor Ebay, but there isn't much reason for WeatherWool to be there. Our products can always be returned to us for a full refund if they have not been satisfactory. And if a person wants to dispose of WeatherWool for some other reason (gain or loss of weight is the usual), the garments can be sold back to us for usually at least 65% of purchase price. This is how the Lending Library is stocked.

This morning, I met Advisor David Alexander at The Swamp for the opening morning of New Jersey's "Buck Season". David is the Senior Naturalist employed by a large governmental park system, and being in the woods with him is always extra-interesting because he knows a lot of things I do not, and he shares.
New Jersey isn't completely paved over, and is an excellent state for venison. I think there are still school districts in rural Jersey that close for opening day. The Swamp is in an area of New Jersey where the biologists believe there are too many whitetails and so the season is long and there is not much in the way of limits. And I did, as the saying goes, "make meat". We really savor venison. Taking another deer out of The Swamp isn't really noteworthy. The interesting thing was that Debby insisted I wear a CPO Shirt under my usual, original All-Around Jacket ... the one I've been wearing since 2012. The temp was about 25F/-4C ... with no wind and low humidity. So, a fairly comfortable morning for this time of year, and I didn't see the need for much of anything under the AAJ. Debby felt if I was going to wear a shirt, it should be ours. Agreed. Except my old AAJ is size 2X and my CPO is size 3X. But the MidWeight CPO fit just fine under the AAJ, which surprised me. And another surprise was how well my cellphone batteries held up while in the chest pocket of the CPO. But when I took the phone out of the pocket to register the deer, the battery dropped down to almost nothing in just a few minutes. I really need to keep a couple of thermometers with me so I can watch the temp inside and outside my clothing.
One other thing ... I almost always wear our MidWeight Pants -- without longjohns -- and they were ideal.
2022-12-04 ... Again
So, the adjustments (see earlier entry) required on our side were pretty extensive and I don't feel badly for not attempting them myself. Turns out some tweaks needed to be made on Shopify, our webstore platform, as well as our email configurations on desktop and phone. I didn't expect that at all. And these changes are going to take a day or so to propagate. The rodeo isn't over for a while yet.
2022-12-04 ... PEBCAK!!
We use GoDaddy for the email host of WeatherWool.com. We use Microsoft Outlook as the mail application on our desktops. And on my phone, I use something called BlueMail, which I don't think I'd ever even heard of until Alex installed it a few years ago.
Yesterday I got a notice from GoDaddy that they were changing some stuff, and that most people wouldn't need to do anything. I'm always leery of these updates because I used to work in tech and I've seen a lot of updates that caused a lot of problems. So ... UPDATE DAY came today at about 11AM, and my email stopped working. Fortunately, Steven Martinez, our "IT guy", was standing by and got things fixed up pretty quickly. (But not entirely, it turned out.)
What amuses and, to some degree, distresses me is that in the 1980s and 1990s, a big part of my own work was tech support. I used to be the guy who handled this stuff for other people. Now, I'm getting close to helpless. What's maybe worse, is that trying to get the settings fixed on my own seems like a horrible way to spend a morning. Time was, I'd tear into the documents and fiddle around until it was right. Now, I just call Steven!
Steven's one of those people who, at about age 10, discovered that he liked computers. Hardware and software, applications and systems. That was about 20 years ago, and he hasn't stopped. It's great when someone finds "their thing" young!
I never liked computers, but way back when, it seemed if you ever had so much as a login somewhere, somebody wanted to give you a job to work on systems.
When I used to do trading-floor IT support, everybody was friendly with each other, and joking around was taken pretty seriously, so long as it did not interfere with work. Usually, when someone had a problem, it was a user-problem and not actually a software problem. After things were settled down, people would often ask about the source of the trouble. Depending on the person, I might answer that there had been a problem between the chair and the keyboard. I liked watching people for the half-second it took to realize the joke. Help-desk people have an acronym ... PEBCAK ... Problem Exists Between Chair And Keyboard. Now, 20 years later, it's me.
Steve's got my email working again, but there's always a gremlin or two. I was about 300 mails behind, but with the new, super-duper whatever, the mailbox says I have about 2500 unread messages. I'm not that far behind!
OUCH! --- something still wrong --- very few mails coming through ..
2022-12-03 ... NYC Drop Off/Pickup ... Cutting Anoraks
Did a dropoff/pickup at Factory8 in NYC this morning. I was late getting out the door, and then, amazingly (or not), I absent-mindedly got onto the wrong spur of the New Jersey Turnpike. This wouldn't have mattered except that the freight elevator shuts down from noon Saturday until Monday. I made it to Factory8 at 11:50, and started unloading the truck. Luckily I didn't have much of a load, and was able to cram it all in the cab, because it was raining pretty good. The door to the service entrance was open, so I started putting rolls of Fabric into the hall, knowing JR would not have any time to spare getting everything upstairs within 10 minutes. The rolls of Fabric are about 60 pounds (27 kg). Standing in the entrance, sheltering from the rain, was a tiny woman of, apparently, Asian ancestry. She saw what I was doing, went over to the truck and picked up a roll of Fabric. I had no idea who she was, but probably someone who worked in the building. She couldn't have weighed more than 100 pounds (45 kg), and I told her, NO THANKS, IT'S OK. She might not have had a lot of English, but she replied I STRONG! I STRONG!! and carried a roll of Fabric inside. Many of the Garment District workers are "off the boat", as they used to say in my Grandparents' day. Now, it's "off the plane". JR later told me she works nearby, and he tipped her.
It's not hard to find bad things to say about NYC, but it is also full of wonderful stuff and great people.
This afternoon, JR began cutting Anoraks and said the BLACK IS TRUE BLACK. NO GRAY. DIVINE. Giuseppe at American Woolen will be very happy to hear that! And Debby, too, because she has always insisted on True Black.
Drab Fabric being spread on the cutting table on top of some Black Fabric.
2022-12-02 ... Up and Running Fine
By late yesterday, Debby had finally gotten our shipping tools restored. While Debby was trying to get our normal channels going, I actually opened an account with ShipStation, which advertises like crazy. A knowledgeable service rep spent a half hour on phone with me, walking me through the setup!! WELL DONE SHIPSTATION! We shipped two packages that way. So now we have an additional backup if we have problems again. Alex even shipped some packages "the old-fashioned way" by logging in directly to UPS.com and USPS.com.
We wound up the day in better spirits, shipping out some garments and watching Mike Horstman in our Anorak on Mountain Men. I was texting with Mike on Kodiak Island while watching him on TV. Cracks me up to do that!
2022-12-01 ... AHEAD of Schedule (YAY!) ... Human-to-Human, Please!
Yesterday, Alex picked up a bunch of Brown Anoraks at Factory8 in the Garment District, and we are going through them. This is about three weeks ahead of schedule and really good stuff! And this morning, Jacob Long, owner of American Woolen, phoned to tell me the rest of my Batch 7 FullWeight Black Fabric is ready for pickup -- two weeks ahead of schedule!

On the downside, Shopify, the ecommerce-platform market leader, shut down our shipping because they couldn't process a $40 charge. I understand glitches happen. But how problems are handled is important. Our daily shipping charges are obviously far less than our overall daily sales. So, for sure, they always owe us more than we owe them. Why shut down the show? Given that Shopify is the leader in their space, it must make sense somehow, but not to me. Just call me!
One of the legendary stories at Bell Labs, where I spent most of the 1980s, involved people's perspective on the telephone way back in the early years following Bell's invention. Legend had it that the phone wasn't initially popular because people didn't see why they'd want to talk with someone who wasn't there. It seems like that's where we are again.
So anyway ... we've lost most of Thursday trying to get this fixed, and it ain't fixed yet. Sorry for delays in shipping! And the whole rigmarole traces back to fraudsters trying to glom our accounts. The US (maybe world?) financial system is so overwhelmed with thieves that the financial institutions make no attempt to investigate, and law enforcement makes almost no attempt to investigate. The thieves have no fear of punishment. It seems their only downside is loss of time and effort.
In the news these days is the spectacular collapse of FTX and Samuel Bankman-Fried. He's on TV now saying he didn't do anything wrong. He did. Before starting WeatherWool, I did due diligence on hedge funds for 10 years. Money attracts thieves. Big money attracts sophisticated thieves, although this does not even seem sophisticated. FTX came long after I left the due diligence space. But I am almost certain anyone competent -- even mildly competent -- at due diligence would have spotted enough "red flags" to tell clients NO. Just ONE red flag is all you need to see. I was around for the collapse of Bernie Madoff in 2008. I do not think I've ever put this in writing before, but at Morgan Stanley, where I worked until 2002, there was a very firm, unwritten rule. Madoff was entirely off limits. ... No phone calls, no emails, no luncheon. Nobody at Morgan would ever have anything to do with any Madoff agent or business. No, no, no, no, no, no, no. Same unwritten rule at Goldman Sachs. I don't believe there are many financial professionals who did not see the FT collapse coming. The connection to WeatherWool is that our financial systems overall have evidently reached a point where attempting to get the slimeballs to go elsewhere is considered sufficient. Our bank, as mentioned a few days ago, repels large numbers of attempted fraud constantly. But everyone pays a huge price for that. At least now I can truly commiserate with all the WeatherWool customers who tell me they've been hacked. It will be interesting to see what happens to Bankman-Fried (what's in a name?).
As for FTX, the most important safeguards people need to see before investing:
Is there a known, reputable administrator, that oversees movement of client funds and ensures client funds cannot be commingled with the funds of the investment manager, AND that client funds cannot exit the accounts of the manager (except in very narrowly defined ways, such as returning money to the person who invested it)?
Is there a known, reputable bank that works in concert with the administrator?
Has the manager retained the services of a known, reputable auditor? [I just looked this up. Auditor is Armanino. I never heard of them.]
I would be willing to bet FTX was 0 for 3.
Here's a great quote: "FTX's administrator [this is the bankruptcy admin, not the day-to-day admin referenced above] told a US court he had never seen "such a complete failure of corporate controls". Yeah, I would expect. Except I think ABSENCE will turn out to be a better word than FAILURE.

OK .. sorry ... I've gotten rolling on this because Debby is still trying to get our account restored. Visiting the FTX website, which, to my surprise is still up, they have a page on their regulators. I don't see the types of things I would have looked for back in the day. I do see Cyprus, Gibraltar, Antigua, Barbuda ...
A lot of people at FTX should be punished severely. But also, any financial consultant or advisor who put client money into FTX should be bounced from the industry.
2022-11-30 ... Brown Anoraks ... Duff, RIP?
Alex is picking up Brown Anoraks at Factory8 in the Garment District now. We'll be shipping the first few today, and continue tomorrow and Friday.
As for the Solid Duff Color that we so carefully developed, so far, almost everyone has preferred the plain, old, accidental Brown color that was created by Tintoria, the new dye house, in their attempt to give us Duff. So ... we have not decided yet for sure, but Duff may be done.

2022-11-29 ... Brown Anoraks ... Upcoming Production ... Normal Ops
Tomorrow I will pick up some Brown Anoraks at Factory8 in the Garment District. Much of this production run is already reserved, and we are getting Black and Drab FullWeight Anoraks going shortly. If you want an Anorak in FullWeight Black, Brown or Drab, please LMK right away and we can get something reserved for you.
Same story with (listed alphabetically):
We've made quite a bit of Fabric lately, with more Batch 7 (FullWeight Black and Drab) coming and Batch 8 (MidWeight and FullWeight Drab) getting under way. But even so, we have a great many pieces to make and we're hoping to really focus on pieces that are reserved by SHIP ASAP or, at least, strong intent.
Debby's and my children have returned to Wyoming and Wisconsin, so we'll be picking up the work-pace again!
2022-11-28 ... Athletics (Not really wool-related) ... Lending Rush
This morning I got a call from a guy who lives here in Jersey. He'd visited us years ago. My phone knew his name, and he asked if I remembered him. "Did you used to play pro ball?" He said "Yes", and I responded "I always wanted to be a better athlete." He made me laugh when he said "So did I." But of course! And he probably wanted it a lot more than I did!
Way back when I was working on the trading floor at Morgan Stanley, the occasional celebrity would show up. The trading floor was a huge room with probably 500 people in it. Very loud. A sort of organized chaos. One day, Bill Gates, who was then the richest guy in the world, was there. Nobody paid that much attention to him. But the guys were somewhat awestruck by Ronnie Lott and Richard Petty. Almost all the guys there had done some kind of sports and would have rather been a pro athlete or race-car driver than a Wall Streeter. Even the ones that were making tons of money (that wasn't me!)!!
Maybe I should have expected this would happen, but I didn't. Someone ordered a piece from the Lending Library, and paid for Overnight Express Shipping. He phoned today to purchase the piece.
2022-11-27 ... Deposits, Advance Payments ... Black Friday, Cyber Monday ... Nasty Guy, Great Guy, Sir William Gladstone!
In the last few days, I must have received 100 mails telling about Black Friday and Cyber Monday sales. Some of these mails come from big businesses with marketing and sales departments. It surprises me this would be a professional strategy ... I'm going along thru the mails just clicking DELETE. These sales must work for some companies. I suppose it depends on the operation. I don't like the idea, and I don't think it would work for us. I am trying to email a very short monthly newsletter.
More and more companies are asking people to pay in advance for product that hasn't been made yet. Kickstarter, for one, has been doing this for years. We haven't done this because production has been so uncertain, but also because I don't like owing in the first place. But what I find kind of funny is that some people have been suspicious of placing a free backorder.
The great majority of our customers are fantastic people and a pleasure to work with. For example, we have already received the return from the customer mentioned on the post from the 23rd. And one of those pieces is going out to a guy who has been waiting on an All-Around Jacket and Hooded Jacket from the Lending Library. When I phoned to tell the customer we had the AAJ he'd been waiting for, but not the Hooded Jacket, he insisted we keep the whole $60 for two Lending pieces, rather than the $30 charge for the AAJ that will go out tomorrow. I told him we'd have a pizza work-lunch on him. THANKS MUCH!!
Then there is the other, rare, opposite experience. Last week a customer returned an item for a different size. We've been REALLY busy, and we didn't ship his replacement within a day. I was confused by the agitated tone of his email, so I phoned him, thinking I didn't know the whole story. Nope. He was really peeved because we hadn't shipped quickly enough. He demanded we ship immediately or refund him. I told him we weren't going to get along, and issued the refund. He quickly emailed a very unpleasant reply to the Notice of Refund.
We have always had a No Aggravation policy. If someone is unhappy, we issue a refund along with Best Wishes. Happily, it's extremely rare. But it's an important policy, and an important mindset in general, at least for me. Every couple of years or so, I try to flag Sir William Gladstone:
There's so much sh*t to do. But really, why bother with any of it? You're going to die eventually. Then you're going to wonder why you bothered with all that sh*t.
I'm too old to bother with it.
2022-11-25 ... WarriorWool ... Still Far Behind ... No Sales
People ask frequently when we'll have a "sale". And now, with so many businesses offering Black Friday and Cyber Monday sales, people are asking us more than usual. We don't do sales of any kind.
Sorry, but I am still pretty far behind (>500 mails) on my correspondence. I will get it done, but the next few days are still devoted to family and friends. We are rarely all together.
Sending some WarriorWool off to a place that I didn't even know we have an installation!
2022-11-23 ... Thanksgiving
I don't know if I will post tomorrow. I don't want to ignore Thanksgiving, and I surely am extremely THANKFUL. But whatever I might write will already have been said better by someone (many "someones") else.
We like to think of ourselves and our many Partners (including our Customers!) as working together to make a better product and a better "ecosystem" (as Jacob Long, owner of American Woolen puts it ... with the ECO drawing on both ECOnomics and ECOlogy).
This website states that people can return garments for a full refund, even after lots of use, if the garments have been a disappointment. But it also states a refund is available on the basis of need.
This morning I received a note from someone in the National Guard, who has had a CPO for about 7 months and an All-Around Jacket for a year:
I am writing this to request a refund for the All-Around Jacket and CPO shirt I purchased as well as cancel my backorders. Unfortunately, I have had an unforeseen financial situation come up and could use the money. I'm sorry I cannot keep these exceptional garments. They are by far the highest quality pieces I've ever worn. I hope to one day be able to afford these garments again. I look forward to hearing from you. Thank you. 
Decades ago, I was watching the late Johnny Carson (hosted The Tonight Show from the 1960s until the 1990s) interview the late actor Kirk Douglas. They were talking about Michael Douglas, Kirk's son, whose acting career was really taking off. Kirk said something like "He's got everything going for him." Then he caught himself and said: "Everything but ONE thing. He's never been broke." Johnny and Kirk both felt everyone should experience some financial hard times. I strongly agree, but hope it happens early, in the teens or twenties. We refunded our customer immediately, and emailed a postpaid return label. Usually we don't refund until the garments are returned, but maybe getting the cash a little sooner will make a difference to our customer.
Today, Debby's and my children will be heading back home from Wyoming and Wisconsin. We'll be joined by more family and even a longtime customer from New Hampshire. It will be, again, a holiday to be very thankful for.
Wishing everyone a life to be thankful for. Even more than that, we wish everyone the attitude of gratitude.
2022-11-22 ... Can't Go!
About 30 years ago, I went fishing with my late Cousin Joey, a heavy-duty outdoorsman. First stop, we spent a nice chunk of change at a tackle shop, and I was puzzled that the proprietor seemed angry with me. Joey explained. "He loves fishing, so he went into the fishing business. Now, he's working all the time he used to be fishing, and he's angry about it!"
WeatherWool is keeping me really busy lately, but I'm definitely not angry about it. I'm thrilled about it. I'm sorry to have fallen days and, in some cases, even weeks behind in my correspondence. Apologies to anyone still waiting on me. (I will get back!)
The events of the last couple of days reminded me of that early-90s outing with Cousin Joey. I had intended to spend a significant amount of this week looking for deer at The Swamp. And hope to still get there. Plus, a few of us have plans for goose at sunup on Thanksgiving morning.
But so far, this week, I've not been able to find time to do anything other than try to keep up with WeatherWool. No Swamp, and no surf-fishing, either. New Jersey offers up some great woods and waters experiences this time of year. So ... not only is the Swamp calling me, I had to pass a surf-fishing invite from my friend Bill Walters, a lifelong Jersey-based outdoorsman. Bill is fishing "The Hook" as I write this ... Sandy Hook at Gateway National Recreation Area. The Hook, because of some unique geography, is one of the top East Coast surf-fishing spots. And the same geography resulted in historical and military significance.
The NYC Harbor Area from the "striper-surf" at Gateway National Recreation Area (Sandy Hook, NJ), on 22 November 2022. Photo courtesy Bill Walters.
Bill said his outing started with a standoff against an immense whitetail buck, which would not yield the path Bill intended to use to get to the surf. Bucks can be famously wild this time of year, and Bill decided it was best to back off and head for a different stretch of beach. Bill's belligerent buck was also Bill's Lucky Buck because his unexpected detour to a new stretch of surf quickly yielded four stripers over 30 inches (76 cm).
A 30+ inch (>76 cm) striper taken from the surf at Gateway National Recreation Area (Sandy Hook, NJ), on 22 November 2022. Photo courtesy Bill Walters.
Bill sent me a couple of photos and then ... "Here they come again!" ... I assume Bill could see the stripers feeding like mad on large baitfish. (Incidentally, I know Bill through wool!)
But, IT'S ALL (BETTER THAN!!) GOOD! Lots of the best kind of work to do, plus prep for Thanksgiving with all my kids, their kids, and friends. (Another one of my "wool-friends" will be spending the holiday with us.) The woods and the waters will be fine without me. Plus, my friends and family are out there!
2022-11-21 ... Twenty Years
Mostly, I have been self-employed. But I did work 11+ years at the original Morgan Stanley, ending 20 November 2002. As of today, it's twenty years that I am again self-employed. (Also 20 years since my face has been clean-shaven -- Debby's decision!)
Twenty years and one day ago, I would have been heading for the 6AM train now, instead of sitting at my desk at home. I actually work much more now than ever before, but I also like what I'm doing like never before, and Monday is actually my favorite day of the week!
Since the Carl Murawski review of our Anorak was published a week ago (THANK YOU CARL!), we have gotten more attention than ever, and we (particularly me) have not been able to keep up with all the inquiries and orders. We're catching up, but it's been a heavy-duty, delightful and exciting stretch!!
This is Thanksgiving week, and I'm extremely THANKFUL to the many, many people that have been helping us and working with us as we continue to turn WeatherWool from an idea into a solid company.
2022-11-20 ... Ladies Like Lynx
Yesterday I received really nice notes from two people:
First was a gent from Georgia who'd only just begun to wear his Lynx Anorak.Three women that he did not know, in separate incidents, approached him asking to touch the Anorak. They took photos of the label so they could do some research
Later in the day, a customer from Alabama, who has several pieces from us, wrote that he now understands why we have trademarked Hardcore Luxury. His WeatherWool is intended for the field. But his 16-year old daughter wanted to wear his Lynx CPO to school. The same day, his wife, a schoolteacher, wore her Lynx All-Around Jacket to work, and reported many compliments. The consensus at school was "chic". Then the daughter wore Mom's AAJ to a football game at Auburn.
And this is exactly what we are about. We love that our Fabric is attractive and luxurious enough that people wear it for style and feel ... and that others wear the same garments for the most demanding situations in wild and even hostile environments.
When we used to do outdoor shows, sometimes a wife would pull a husband into our booth, telling him to look at our clothes because he didn't have anything like them. (And I loved that, too!)
2022-11-19 ... Busy Morning!
On Thursday I picked up at American Woolen most of the Batch 7 FullWeight Black and FullWeight Drab Fabrics. My Fabric was waiting for me on the dock, so I started loading. One or two of the guys from American Woolen happened by, and asked if I wanted help. I knew loading trucks was not their normal work, plus I kind of enjoyed the work, given that I handled a lot of freight in the 1970s. So I continued working alone, carrying the rolls of Fabric into the trailer. But then Wendy came outside, and suggested that we could push the dollies right into my trailer, and slide the rolls of Fabric into place. I didn't really see that happening, but Wendy was right!! I will have to tell Jacob, the owner, that he and I have been jackassing needlessly! This was a much better way, and THANKS to Wendy for pointing it out. But then, out came Tammy, who handles books and billing (and, evidently, freight, too) and Arthur, the fabric and finishing engineer, who has also obviously handled his share of freight. So the three of them more or less took over ... until 20-something Michael appeared. Watching Michael, in particular, reminded me of when I was handling freight at 18 and the older guys would tell me to slow down because my natural teenage pace was uncomfortable for them. So ... I stood off to the side and held the bill of lading (the paperwork is important, ya know!) while Wendy, Tammy, Arthur and Michael completed the load.
It's a fine thing when a group of people cooperate cheerfully and complete a nice little piece of work! And I doubt that loading trucks is really part of the job description for any of them. THANK YOU!!
On the way home, I dropped off Fabric at Better Team USA, which barely required any detour. Yesterday, I delivered most of the remaining Fabric at Factory8 in NYC's Garment District. We kept some Fabric here to fill orders from people who want to make their own pieces. If you're waiting for Fabric, the website is accepting live orders for all our Fabrics except MidWeight Drab.
And actually, the deliveries mirrored the pickup. Better Team had three young guys unloading, and JR had a helper at Factory8. All of them were moving faster than what is my pace now.
Now that the tailors have Fabric, I need send them the "cutting tickets", which are kind of like purchase orders. The cutting tickets tell the tailors the exact mix of Fabrics and sizes we want them to make. Normally, the cutting ticket precedes delivery of Fabric. But we've worked a lot with our tailors and they know I've been under water a little lately.
I just got a call from a customer who received his MidWeight Drab Anorak yesterday. He tried it out this morning in some weather, then phoned to order another Anorak in MidWeight Lynx. I admit I love when this happens!
Debby's been in Wyoming for 10 days. She is coming home in a few hours, bringing our daughter-in-law and new grandson with her for Thanksgiving. So ... I have a lot of cleaning up to do around here!
2022-11-18 ... SWAT
Last night we received some photos and very favorable feedback from a Law Enforcement Officer wearing his new WarriorWool for SWAT training. He's been wearing his Anorak for a week or so, and sharing with other LEOs. The strongest testament is that he phoned me to order a Drab Anorak for himself and another Lynx Pattern 'rak for his Dad.

2022-11-17 ... On the Road ... Monthly Mailing
Heading out the door now (4:30AM) to pick up Batch 7 FullWeight Drab and Black Fabrics at American Woolen. This is the first tranche of each. I will get this Fabric to the tailors right away.
Just sent out our monthly email. We're trying to do a monthly update ... just a few paragraphs. Open House coming Sunday. Nice timing for Open House at a fantastic time of year!
2022-11-16 (again) ... Touch It?
People tell me frequently that strangers ask to touch their WeatherWool. But a good friend of WeatherWool from MT and NC put this in writing yesterday:

A gal wrote down your website yesterday after seeing and feeling my CPO shirt........a lot of folks ask but don't actually write down the name so I thought that was a good thing. And I directed her to the YouTube video by Mr. Murawski:>) I guess I'm just letting you know that you do have "marketing" going on for you.
2022-11-16 ... Sales (Not) ... Fabric Coming ... Heading to Europe
This morning a prospective customer got in touch asking us if we would be offering deals for Black Friday, or if we had any "sales" coming up. I wrote back that although we do have some Used items available from our Lending Library, we never do the usual type of ON SALE NOW promotions. The customer responded "Love no sales. Thank You." He also placed an order for an Anorak. THANK YOU!

Tomorrow, I should be on the road early, headed for American Woolen to pick up the first tranches of Batch 7 FullWeight Drab and FullWeight Black.
I'm hearing suddenly from US Military deploying to Europe. Another WarriorWool Anorak requested today.
2022-11-15 ... Another Nice Sighting
Yesterday we got an order from a guy who had become familiar with WeatherWool in Afghanistan!
Speaking of WarriorWool, a week or two ago, a Law Enforcement Officer bought a WarriorWool Anorak for himself. He phoned today with a great report on its performance so far, and said some of the his co-workers tried out the wool and are interested. Then he ordered another Anorak for himself and one for his Dad.
2022-11-14 ... Traffic!
Carl's video (see yesterday's entry) was released about noon, Eastern time, yesterday. As I write this at 7AM, the video has had about 8900 views. This website had about 3000 visits yesterday, compared to about 800 on a typical day. So probably about 25% (around 2200 of 8900) of Carl's viewers visited our website.Very few, of course, actually placed an order. And of the orders we did get, around 85% were backorders priced at 0. But it's typical that people will consider WeatherWool for months and, frequently, years before making a purchase.

Alex and I are still working to finish off all the work generated by the availability of Lynx Pattern Anoraks (picked them up on Wednesday last week). And then the video from yesterday really had us going. But I think we'll get everything done by the end of the day tomorrow. Thanks, Everyone, for your patience on this!
2022-11-13 ... YouTube Review! (Gulp!!)
Carl Murawski reviews (primarily) menswear on his very popular YouTube Channel. Here is a link to his review of our Anorak. WOW!! And here is a link to a page on this website with a little background info.

2022-11-12 ... Love When This Happens ... Shipping ... Fabric Update
A customer from Northeastern South Dakota told me a story we really love. He parked his truck in front of a store, and saw a guy walking by in a Lynx Pattern Jacket. So he called out to the other fellow, stuck his arm out the window, and pointed to his own Lynx Pattern Jacket. The stranger said WEATHERWOOL! and gave him a thumbs up
We are such a small company that our customers cross paths only rarely, and we love hearing about it!
We are still catching up with processing the backorders from Wednesday's pickup of Lynx Pattern Anoraks. We've almost finished with the SHIP ASAPs, and we still have some left. Next, I will contact the people who have placed unreserved backorders.
At the end of next week, I will probably be heading up to American Woolen to pick up both FullWeight Black and FullWeight Drab Fabrics. And we'll get those Fabrics to the tailors pronto.
2022-11-11 ... WarriorWool on Veterans Day!
It's an honor to be fulfilling WarriorWool orders on Veterans Day! A guy in Virginia Beach is getting his third one, with a fourth still on backorder.
The American Homeland, free of any concern about foreign military invasion, stands in stark contrast to historical norms.
2022-11-10 ... BUSY
It takes quite a while for us to go over a load of Anoraks ... counting, inspecting, and then filling backorders. We didn't get as much done as I'd hoped! We are working on it ... Thank You for your patience!

2022-11-09 ... NYC Pickup Lynx Anoraks
Hit the road at 4:45 this morning and cruised into NYC with the pickup and trailer. Trailers are required to go over the George Washington Bridge, so it takes twice as long to get to Factory8 in Midtown Manhattan. But I got there about 5:50 and although there was plenty of activity, there was very luckily about 50 yards of open curbside right in front of the service entrance ... so I could pull in close enough to the curb that no backing up skills were required to get into proper position! If I had to try to maneuver amidst the usual midtown activity, it would have been nasty. I don't mind funny, but really wanted to avoid nasty!
Not sure, but the last time I saw sunrise in NYC might have been 20 years ago, when I was a daily commuter. (Best place for sunrise or sunset was the top of the World Trade Center, where I used to work when the WTC was only a few years old.)
Looking East on 37th Street was really pretty just before sunup. Somewhere on 8th Avenue, someone had an operatic soprano turned up really, really loud. In that setting, it was a little crazy and I thought it was great. But probably the people nearest the speakers weren't too happy about it.
JR Morrissey, proprietor of Factory8, was ready to load the trailer with Anoraks in MidWeight and FullWeight Lynx Pattern.
Once loaded up and on the road, the 7-mile drive uptown, to the GW Bridge, was really pleasant, and the ride back to Jersey was a snap because the traffic was going the other way.
We'll spend the rest of today double-checking the bill of lading against each box, and doing Quality Control on each Anorak. We'll do some shipping, too.
2022-11-08 ... Production and Supply
Tomorrow I am scheduled to pick up Anoraks in FullWeight and MidWeight Lynx Pattern at Factory8 in NYC. If you want one of these and you have not reserved your Anorak (left a credit card on file with us), we won't have many extra in some sizes.
Good news from Factory8 that our everything we have in process now, Anoraks in FullWeight Brown and All-Around Jacket and Double Hoods in FullWeight Lynx and FullWeight Brown, will be completed before Christmas. If you want one, it's a good idea (and helpful to us!) if you set up a SHIP ASAP order.
Supply chains have been famously difficult lately, although we are OK for now, mostly because Debby ordered zippers and such more than a year ago (just in case ordering). But just to illustrate how weird things are:
Lots of folks have told me a fresh, local turkey is a significant improvement over the frozen birds we have always served. So a couple of weeks ago I ordered a fresh bird from a local farm. They just canceled and refunded my order "due to circumstances beyond our control."
2022-11-07 ... Very Nice to Hear
Today, Debby spoke with a woman from whom we had not previously heard. The woman called today to get something for her husband. But she had, indirectly, worked with us years ago, when a few women had teamed up to get an Anorak for a Veteran who lives in their town. They had expected the garment to be used for hunting, and it is. But the women have been pleased to frequently see their Veteran friend going about town in his Anorak .
We love stuff like this. And it's particularly nice to hear with Veterans Day only four days from now.
2022-11-06 ... Marketing/Advertising/TV
I just got off the phone with a customer who remarked that he's been seeing us on TV, and he mentioned the Mountain Men, where several people have worn our garments. BIG THANKS to the TV people ... the people in front of the camera, the people behind the camera (some of whom also wear our wool) and to the producers who have given their OK for more than one person to not only wear WeatherWool, but even to wear Lynx Pattern. Our solid colors are also on TV, but they tend to fly under the radar, whereas Lynx is much more distinctive.
It was kind of nice the customer mentioned Mountain Men, because a couple of days ago I got a call from Harry Youren, one of the History Channel's Mountain Men. Harry's brother, Kidd, has been wearing a Lynx Pattern All-Around Jacket on the show, and Harry had borrowed and liked it. So as soon as we have an AAJ in Large (Brown, probably), we'll send one to Harry. One of the guys who puts the show together had already told me the Mountain Men have enough Lynx.
None of the TV folks have been paid to wear our wool. They all wear it because it is their choice. And they have a lot to choose from! ... which brings me around to the second part of this entry.
A customer with whom I'm in pretty regular contact sent me a note about the Blog of November 2nd, which states we need to take marketing and branding a lot more seriously. Our customer wrote that he has done a lot of marketing on our behalf, because when going about in our gear, "There always seemed to be someone asking to feel my CPO shirt or the all round Jacket and wanting to know where I had gotten it." Tim, the writer, noted that he's seen a lot of slick and deceptive marketing, and that word-of-mouth from enthusiastic customers is the most effective and believable marketing. (Agreed!) And so he didn't like the idea of us working with a branding and marketing pro. But he added "It has occurred to me that perhaps those folks who want you to do better marketing are actually wanting you to figure out ways to better portray the truth about your garments. If that is what they are desiring then I'm all for that."
YES ... that's the only way we will (and always have) roll.
The branding/marketing/media guy I have in mind just wrote me today that he's been hoping to work with us for a long time. He's worn our clothing for years and has always understood our Hardcore Luxury vision. As customer Tim wrote, this is about telling our true story; telling it better, in a more engaging and professional way, to a much wider audience.
Oh ... and I forgot one more thing ... I'd been thinking about calling Trustin in the days before he released the video (Bog of 2022-11-02)!!
Things really seemed to line up for this next step.
2022-11-05 ... Lynx Anoraks Coming Wednesday
Wednesday morning at 6AM, JR Morrissey, proprietor of Factory8, and I will meet in NYC's Garment District and load up my trailer with FullWeight (mostly) and MidWeight Lynx Pattern Anoraks.
If you want a Lynx Pattern Rak and you have not already set up a SHIP ASAP order, please do so. Pre-orders far exceed the number of Anoraks that have been made, BUT we still have capacity for more reservations. Only after all reserved (SHIP ASAP) orders have been processed will we address the remaining requests.
Thanks to JR for making special arrangements for the 6AM pickup ... hopefully I'll be able to pull up to the curb; I would really hate to have to attempt parallel parking with the trailer in the midst of the usual business-hours midtown traffic!
2022-11-04 ... Blankets ... Vindication!
I have never liked wearing clothing with labels, logos, "branding" marks. I believe a lot of people feel the same way. We are very flattered that customers have actually asked us to put our label or a logo on our garments because they want to help us grow! THANK YOU! But I still don't want to do it, although we have sewn a label onto the outside of at least one Anorak, by very special request of customer Ron R, who is waiting for another Anorak, again with an outside label. But we have also heard from customers who emphatically supported our decision to not have external labels. (And even our internal labels are inconspicuous and placed so as to minimize adverse impact on garment performance.) A few days ago, "Mark H" posted on this website a Review of our Watch Cap (at bottom of page). Mark had some nice things to say about the Cap in general, but also:
And now the most awesome thing about the cap: it doesn't have a damn tag on it.
THANKS MARK!!
We've been wanting to make Blankets for quite a while. Blankets might seem kind of far off our range, but given our Fabric, they are a natural, and people have regularly asked for them . So today we picked up Samples of Twin, Double and Queen Blankets at Better Team. We look forward to making a lot of Blankets!
WeatherWool is pleased to begin offering Blankets.  Here, Debby (on the right), Ilinca and Martin of Better Team USA have a look at a Queen Blanket in FullWeight Lynx Pattern, with borders of FullWeight Brown.
2022-11-02 ... (Affectionate) Criticism ... Next Steps
In the last few days, I got an earful from some people who know their stuff, and they landed on me pretty hard. But, they were telling me as friends, and their comments mostly served to (severely!) underscore what I already knew, and what Debby and others have also been telling me. But, the timing was exquisite, and these were professional opinions.
First, I heard from Jason Vincent, CEO at Field Ethos, where they publish a magazine and other content that I very much enjoy. I've known Mike Schoby, COO at Field Ethos, for 10 years. I've known Jason by phone and email for a couple of years. Jason wrote me "... your marketing may be the worst I've ever seen". But I wouldn't have heard from Jason at all except that he has tested (and really likes!) our Anorak and Schoby has been wearing our wool for years.
And two days ago, Advisor Trustin Timber, who has been wearing WeatherWool about as long as anyone outside the family, released on YouTube the 63-minute [Trustin has made the video private, so the link won't work until/unless he makes it public again.] Gentleman's Guide to a Wilderness Wardrobe, saying more or less the same as Jason. Trustin wore his All-Around Jacket for the entire video, and he spoke about WeatherWool for a minute or two at the 38- and 48-minute marks. So his criticism of our marketing/sales was in stark contrast to his stance on our garments.
Trustin is both an outdoors guy and a (former) fashion and photography/video pro. So both Trustin and Jason are guys know of what they speak.
Advisor Trustin Timber is very keen on his CPO and All-Around Jacket. And he reads me the riot act regarding our marketing!
Trustin was probably the first "outside" person who understood and appreciated our Hardcore Luxury concept. I don't know/remember how he found out about us ... probably that "blank" will be filled in soon. But I've felt comfortable with Trustin since the beginning. He has a sense of art and fashion, and creates some great work with his hands and with his mind. I could tell immediately he's at a level few can match, and so it's a kick for me that he likes our clothing.
This little story is illustrative of my relationship with Trustin, and it's funny ... A couple of years ago, I was sort of proud of myself for adding some text into a photo that I posted on Instagram. I was still patting myself on the back when my daughter Denali phoned saying "Dad, you used THE FIRST FONT you found, didn't you? That font is NOT appropriate ...".  Somewhat (only slightly) chastened, I thought about what Denali said, which was exactly correct. The phone rings again, and it's Trustin saying "Ralph, you used THE FIRST FONT you found, didn't you?"
There is also a funny story about how I got to know Mike Schoby. When we were still developing our Fabric, I was amazingly naive (that hasn't changed) about what I was getting into, and how long it would take to do what I wanted to do. So after about 18 months of working on our Fabric, I booked space at a big show that was almost a year away. Surely, by then, I'd have lots of stuff!! No. I went to the show and had only prototype pants and jacket, and I was not at all yet satisfied with the fabric. But Schoby stopped by the booth and we talked for quite a while and he said he was very interested in what we are trying to do, and that he'd follow us and he'd like to stay in touch. He did, and we have. And writing this reminds me I owe Mike a call!
Since we started the company, it's been clear to me that I know where I want to go, but I don't know how to get there. And so, WeatherWool is truly the creation of our great many Partners (experts) who knew one of the many different stages in the processes of raising wool sheep and turning their fiber into finished garments. But marketing and sales have been all me and the family, and some volunteer help from many others. And the many shortcomings are all mine. Given that we have sold practically everything we've ever made, I haven't really sought professionals who could help us grow. For a long time, we've been limited by our inability to make more than a relative handful of garments. But, that looks to be changing. The last four years have seen not only the virus, but we've lost two companies upon which we relied heavily. All this prevented us from making much product. Now, we should be able to make a whole lot more, and it's time to begin working with people who know how to raise our profile and better present our products.
2022-11-01 ... Federal Couple
A married couple in Idaho just bought two Anoraks. He is employed by the US Fish and Wildlife Service and she works on A-10 Warthogs for the US Air Force (another woman in WarriorWool!)
2022-10-31 ... Ruby the Wooly Witch!
Ruby Spring, now with Phenix Threads, has made some great garments with our Fabric. If you want any piece of WeatherWool customized or modified, get in touch with Ruby. Or, if you want to turn some of our Fabric into a completely custom garment, give her a call!
Ruby in a Halloween-Witch Wooly Hat she made from Fabric Remnants
And another one ... Curt from North Carolina made a Birch Bark facemask to match with his CPO:
2022-10-30 ... How Can WeatherWool NOT Be Personal?
We have gotten to know some of our customers pretty well. And, of course, business is one of many ways people interact. We've been doing this for a while, and we've been privileged to meet and sometimes even become friends with some remarkable people. Today, I heard from a new friend that I've known of for decades, but only actually met because of WeatherWool. I also spoke today with another "WeatherWool friend" who was told, quite a while ago, that his time was short because of cancer. But he didn't accept that, began some alternative treatments, made tremendous progress against the disease and now enjoys a vigorous life with a wonderful perspective. Another customer wrote today that he and his wife are expecting twins; their 3rd and 4th children, and they'd like to get a couple of Crib Blankets. They'd just gotten engaged when we met! We have at least two customers who are heart-transplant recipients. One of them received both a heart AND a kidney six years ago today. I didn't even know that was possible.

I hope our customer's daughter approves of the Mouton Pillow!
2022-10-29 ... Front Porch Fitting
Today, Advisor JR Morrissey, proprietor of Factory8, which has made so many of our garments over the years, stopped by to drop off some Fabric Remnants and the latest version of the Women's Blanket Coat. It was such a splendid day, we stayed outside while Debby and JR went over the Coat. We also spent a few hours with customers who visited by appointment.

This has to be the first time we ever worked on garment fit and design on the front porch. Our house was built just before the turn of the century (the 20th Century, that is), and the Victorians loved their front porches. For sure, some nice things have happened on that porch since the Freemans (how about THAT for a name!) built it beginning in 1897. Farmers and Ranchers like to say they don't really own the land, they are just taking care of it. It's the same for our house. We're the sixth owners, and I know the house will be a home for another century or two ... or more!

2022-10-28 ... Lynx Anoraks Looking Early
Factory8 moved up the ETA for FullWeight and MidWeight Lynx Anoraks to 5 November. Great news! Fabric for the All-Around Jackets in Lynx Pattern and in Brown was cut today.
2022-10-27 ... BIG THANKS TO JUSTIN and RENE!
We get feedback every day from customers. We love it, and we are very grateful for it. Often the feedback is just a quick text message with some very welcome and much-appreciated kindness. People phone regularly to tell me their garment has just arrived and they are happy with it. Every day, emails come in with really positive content. I share some of the emails with the rest of the WeatherWool team and sometimes I also share them with our many Partners. Everyone likes knowing their work is appreciated and understood.
Yesterday, Sander Pieters from Belgium sent a great note and photo of himself in his CPO, which I forwarded to Denali, who will do some work on the background (or something) of the photo before we use it. But she gave me the green light to use this photo and caption from Rene Sitte (THANK YOU!) in Germany:
"I love the CPO and wanted to show you that it works perfectly fine in an urban setting. But who am I telling this. You already know it! Greetings from Hamburg, Germany." Rene Sitte ... When Rene gave us permission to use his material, he added that the vest is moleskin/wool from Eat Dust of Belgium. Great combination, and we love seeing WeatherWool in the city. ... a European city!

Lately, I've been trying to figure out how to get WeatherWool noticed by more people whose focus is more toward Luxury feel, comfort and style than Hardcore performance. And so it was really nice to get Rene's email a week or so ago. And just this morning I noticed this review, posted on our website:
Easily the best garment I've ever owned
I'm from coastal Nor Cal, which is not exactly known for harsh weather :lol:. However the pacific is cold here and that means for a very good part of the year, even when the days are hot the nights can be windy and in the 50's, just a bit too cool for a typical flannel shirt or thick cotton hoody. More times than I'd like to admit I've been caught after a day hiking around the coastal hills feeling uncomfortably chilly when the afternoon fog rolls in. If the MidWeight CPO had eyes it would roll them at such "weather"! It's also more wearable in warmer temperatures than you'd expect, worn open with the sleeves rolled up you can wear it into the 70s if you're not hiking vigorously. IMO It's the perfect grab and go jacket for cool coastal climate. Also when Ralph and family say "hardcore luxury" they mean it! This shirt feels damn near as soft as cashmere. Different animal I know but I call WeatherWool "Ballistic Cashmere" it's that comfortable. The first time I wore it when it got cool out I also felt something I never have even with any other wool jacket. It was as if the shirt itself was heating up, like it had suddenly turned itself on. I know most folks buying WeatherWool are serious people doing serious things in serious weather but if that's not you, please don't think a WeatherWool CPO is not for you too. It looks fantastic, is built like a tank and feels great. I could not recommend it more highly.
"Ballistic Cashmere"!! WOW! --- THANKS, JUSTIN
Justin mentions hiking in a cold fog. When a dry wool CPO encounters humid air, it will create a lower-humidity micro-environment around the wearer. The wool achieves this by internal adsorbtion of molecules of water vapor. The water is trapped inside the wool fibers, so the outside of the fiber remains dry and the wearer does not sense moisture. Once inside the fiber, the vapor molecules can condense into liquid water. Both the adsorption and condensation are exothermic, meaning heat is created. We've been trying to devise an experiment to show this. I make no claim to understand well what is happening, but I have experienced it and I've tried to present some research by professionals on Wool and Water and other pages on this site.
2022-10-25 ... Anoraks Coming ... Lending Library
Alex just added several CPOs to the Lending Library. A few of them required re-sewing around the buttonholes, but are otherwise new and in perfect condition. And two others were shrunken about a size by, probably, putting in a clothes dryer.

Above and below: Factory8 in the heart of the Garment District of New York City, working on Anoraks in Lynx Pattern, in both MidWeight and FullWeight. The MidWeight Raks are Batch 6 and the FullWeight are Batch 7. THANKS to Advisor JR Morrissey and his Factory8 Team for doing a great job on our Anoraks!
2022-10-24 ... Women in Wool (WeatherWool!)
Only a few per cent of our customers are women, and so we don't really make things specifically for women. But maybe, only a few per cent of our customers are women BECAUSE we don't make things specifically for women. Well, we will be changing that this year with the Women's Blanket Coat, for starters.
A month or so ago, a delightful young woman checked a couple of items out of the Lending Library, and today she stopped by to settle up and see what else we might have available. We had a really nice brunch featuring venison heart and bagels plus. She spent over three hours here, mostly with Debby. And she left with a strong interest in the Blanket Coat.
Also today, we filled the first WarriorWool order from a female Law Enforcement Officer. We hope it helps her do what she needs to do!!
2022-10-23 ... Our Identity/Focus
It's not clear to me that there are other companies doing what we do ... Hardcore Luxury. So it seems we confuse people. Here's a note someone just posted last week on YouTube:

I really like weather wool [WeatherWool] products, but have to be completely honest. It will never catch on at its current price point. You can't narrow your potential customers to affluent outdoorsmen and expect you'll generate enough market share. But I hope I'm wrong
A really nice note! And my reply:
Thanks, and you may be right. But we decided from Day One we would make a 100% American product and make only the best All-Purpose Outerwear we could figure out how to make. If we can't generate enough business doing things "our way", so be it.

I would point out, however, that many people misunderstand our company. Our trademark is Hardcore Luxury because we are offering hardcore performance in a luxury product.

It's true the great majority of our customers are outdoorsmen (and some women, YAY!) but we are working more and more with people who are attracted to our Luxury side ... the feel and drape and style of our products.

There may not be another company doing what we are doing. City-folks go out on the town in the same garments worn by the most heavy-duty Military Operators.

Thanks for the good wishes! --- Ralph
And a note this morning from a customer who understands us!!:
Hi Ralph, used my CPO on a two week visit (from the West Coast) to L.I.'s East end [Eastern Long Island, New York, is one of the premiere places for surf-fishing].  Worked great while out surf casting (caught 2 Stripers), to going out to dinner, and everything in between.
[I doubt my Mom, who taught English and Grammar, would like the !!: combination above!]
We need to find a lot more people like our striper-catching, restaurant-hopping friend!
2022-10-22 (Again) ... BROWN Anoraks in Cutting
Advisor JR Morrissey, who handles production for us in NYC's Garment District, just sent me a few seconds of video showing our BROWN Fabric about to be cut into Anoraks.
JR likes the BROWN a lot, and so far, so has everyone.

2022-10-22 ... I AM THAT GUY! (Oh, No!)
There is a saying, an echo from my childhood, that if you want a man to think an idea is a good one, plant it in his head so that he thinks it's HIS IDEA.
A few days ago, Alex overheard me telling a customer about our Lynx Pattern ... where the idea came from and what we were trying to achieve. When I hung up, he said "It was all my idea, you know." Actually, no, I didn't know that at all. I asked Debby, who said something like "Well, we talk everything over together." True that, but not what I was expecting, either. Gee whiz!! Looks like I owe Alex very large credit and apology! Great thinking Alex, for sure!! Because development of Lynx led directly to the development of the first Fabric that passed my field testing, it's quite true that Lynx Pattern is the foundation of WeatherWool. All our Fabrics are woven in Lynx Pattern, but the solid colors are woven with only one color yarn. The weavers (MTL) actually refer to our Fabrics as LYNX-BLACK, LYNX-DRAB, LYNX-DUFF and LYNX-LYNX. Their nomenclature puts the weaving pattern first and the color second.
Along these lines, yesterday Debby said to me that she thinks we need to postpone until next year some of our plans/hopes for this year. She pointed out that not only are we "spreading ourselves too thin" (American saying ... "too thin" has not described me since I was 11), but that we can work more effectively with our tailors if we sharpen our focus. She said most clothing companies will have "2022-2023 Collection", which will not be the same as their "2023-2024 Collection". I quickly agreed this was the right course of action, and she said "You know, I've been telling you that for years. And so has JR (Advisor JR Morrissey, who has been a huge help to us since 2014)!!" Yes, they have. I don't know why it suddenly seems so obvious.
Please keep giving me (us!) your ideas. I am trying not to be THAT GUY.
2022-10-21 ... TV ... 2023-2024 Planning ... Tough Tailoring
It's always a kick to see our wool on TV. We've been on Mountain Men quite a few times, but last night was the first time, I think, Kidd Youren (Idaho) appeared on screen in his All-Around Jacket:

It was nice to see Kidd working down in the mud with his AAJ!
Josh Kirk (a lot) and Mike Horstman (briefly) also showed their WeatherWool. The big factor, for us, is that all the TV folks can wear whatever they want because makers will gladly send them clothing for free. And of course, some people get big-money to wear or use all kinds of products. We've still never paid for any product placements.
Debby has talked some sense into me -- she said she's been telling me this for years -- and we have decided that we need to scale back on the number of pieces we offer each year. So, our "2022-2023 Collection" (that makes me laugh and choke a little) will not include the Poncho. We have too much to do and too little time and too little Fabric. So the Poncho will have to wait for the 2023-2024 Collection.
When I decided we would be using Large Slot Buttons (1.125 inch diameter / 2.88 cm) for our Peacoat and North Maine Double Coat, I expected the buttons would be difficult and expensive to make. That part was correct, although more difficult and more expensive than I expected. What I really did not expect was how difficult these buttons would be for the tailors.
We're working on the Peacoats now, and those extra large Slot Buttons are tough to get right. The foot of the sewing machines can't get as close to the center of the button as we'd like. But also, our Fabric is thick. And, the Fabric is doubled where the buttons will go through the buttonholes. We think we have it now.
2022-10-19 ... You Will Have to (Continue to) Wait
Supply chains have been shaky for a long time now, and so Debby, who handles all the notions (components) has been ordering far in advance. Advisor Bob Padula quips that JUST IN TIME ordering has morphed into JUST IN CASE. So, we are OK for now. But we have continued to order more because I would go a little berserk if we had our Fabric but were held up by some component (notion) or other. Four months ago, Debby placed an order for zippers that would previously have been filled in four to six weeks. After waiting two months on that order, the Minimum Order Quantity was drastically increased from 10 to 100 per size per color. (A run of All-Around Jackets requires 20 different zippers.)
Today we were informed that although we've been waiting four months, with a 50% deposit, we simply have to keep waiting because the US Army has commandeered all the production capacity. No ETA.
We have previously been knocked out of production by urgent orders from the US Air Force and Ralph Lauren.
2022-10-18 ... Golden Eagles
I got a little Nature lesson when speaking with a customer from Wyoming who is also a sheep rancher. I've known for a long time that predators are a huge problem for America's sheep ranchers, but I was very surprised to hear that Golden Eagles are by far the worst predators of the rancher's sheep. He said the eagles are 100% protected, and that they are extremely effective at killing lambs. And these are not little lambs either ... as much as 85 pounds (39kg). The eagles would normally prey on smaller wild animals such as rabbits and jackrabbits. But the local eagle population has grown very large and the rabbits are gone. After the rabbits, the eagles went after pronghorn antelope and reduced their numbers drastically. Golden eagles are amazing predators. The web has plenty of videos showing eagle (golden and other types) predation on many kinds of animals. Some of it spectacular, some of it quite gruesome. The way the eagles kill sheep and antelope is really horrible.
I know some people will dispute stories of livestock predation by wolves, bears, cougars, coyotes, eagles, bobcats and others. I don't know if those people have spoken to the ranchers.
2022-10-17 ... Controversy?
The photos currently on this website's landing page were also used for an Instagram post yesterday, and it set some people off.  A few people made comments indicating they believed we were claiming or implying that planting soybeans on land grazed by sheep would make the soy grow tall, or something like that. Actually, I don't even know if soybean farmers would want tall plants. The idea was simply to show that sheep nourish the soil which in turn nourishes the sheep.
Rancher and Advisor Andy McMurry is very attentive to the data he keeps on his sheep and their fiber, and data on his land and soil. A couple of years ago, Andy sent me some material, including data and photos. Andy's photos show the neighbor's field across the road and his own pasture.
Andy's text:
Biological [right] vs conventional [left]. Seen here are two fields in the same creek bottom just across the gravel road from each other. On my side ... 30+ years pasture without any chemicals. On the other side, over 30 years of conventional crops -- corn and beans. I graze sheep so weeds don't concern me. The sheep love Palmer amaranth, for example. Anyway, both fields were planted on the same day 45 days earlier. Mine was strip-tilled / planted with rotovator and planted into Italian Rye Grass / clover pasture sod. So I had 10" tilled 10" untilled. I applied nothing but seed. The IRG and clover reseeded itself in the fall when I grazed off the summer annuals, which were 7 ' tall when I grazed them.
We simply want people to see which field seems more vibrant? Lush? Productive? Beautiful? Diverse? Andy's pasture's annuals were seven feet tall (over 2 meters) when he let the sheep at them!
Setting aside for a moment the actual performance of the clothing: Would most people rather wear clothing sourced from Andy's fields, or an oil well?
2022-10-16 ... Manners?!
We have experienced tremendous courtesy and kindness in our interactions with some large companies. And we really appreciate it. But I was reminded lately about some other large companies that have not been so courteous. We would like to be a much bigger company than we are. How much bigger, I don't know. But I have it in my head that to reach a billion dollars in annual sales in the clothing business, you have to be doing something right, and you must know a lot about running a business.
Last year, we were contacted for potential collaboration by a couple of clothing companies with sales well in excess of $1 billion annually. The potential sales and publicity resulting from working with such large companies would be huge for us. Based on their offerings and our offerings, we didn't see a fit. But, what do I know? I'm still some guy working out of his home office and these companies probably spend millions just on their marketing people. So, when they tell us they like our Fabrics and the design team is discussing possibilities and they want to know pricing, order quantities and timelines, it seems to us they are serious. But then they go dark. It always seemed a long shot, but I don't understand the cold shoulder. They contacted us. I would think the off-ramp would be courteous and respectful, with blandishments about the future.
Manners is a big part of business, we think. And an effort to be courteous, even if clumsy, will win most people over. I don't understand the behavior of these big players. Maybe the people we interacted with were not really indicative. But they are the only indications we had.
We like old books, and one of them is Emily Post's Etiquette, from the 1920s. Our copy is about 850 small-print pages, plus an extensive index. Mrs Price Post (back to the name in a minute) wrote: "To be civilly polite is not difficult." Treating a small tradesman "as though he did not exist, is not evidence of your grandeur but evidence of your ignorance."
When writing the previous para, I wondered how Emily Post would prefer to be addressed. After all, today we have Ms, Miss, Mrs and ... Plus, by the time she wrote Etiquette, the Posts had divorced because of Mr Post's interests in young showgirls. But Emily herself to the rescue! "A divorced woman takes her own surname in place of her ex-husband's Christian name. Supposing her to have been Mary Simpson, she calls herself Mrs Simpson Smith." Indeed, the frontispiece credits "Emily Post (Mrs Price Post)". I don't know if my Mom ever read Etiquette, but reading the book now, I hear Mom's voice saying the same things over and over, decades ago.
2022-10-15 ... Appreciating Little Things
In New Jersey, October has probably the nicest weather and most-scenic landscapes of the year. And today is surely October Prime. An hour before sunup, I met friend Tom and son Hunter at The Swamp. I love to be there (or actually anywhere) to watch night turn to day. But the change is extra-sweet at The Swamp because we have woods, pond and river.
Tom and Hunter hoped to give their young German Shorthair Pointer her first chance to retrieve a duck, and she did! Today was the opener, and we saw good numbers of wood ducks, all drakes. Woodie drakes are famously flamboyant, and a famous conservation story, having returned to real abundance after being in real danger 100 years ago. Demand for their spectacular plumage for hats was nearly their undoing. The woodies are doing great now, and they love the habitat at The Swamp, with lots of water and lots of oaks. Advisor David Alexander, who is Senior Naturalist for Essex County, WeatherWool's home county, will be installing some Wood Duck Nesting Boxes with me before the Spring season.
Sometimes, The Swamp is just too beautiful for words. But that's true of a lot of things. I did the selfie because today is the 13th Anniversary of the founding of WeatherWool. I don't remember for sure, but I think I put this date on the calendar because it's the day the biz was formally registered. I also did the selfie because I'm wearing the original All-Around Jacket, made from the first Fabric that passed my field testing. I've been beating up on this Jacket since October of 2012, and it is still going strong.
The blog from October 11th has a photo of a tree that attracted some ultimately lethal attention from beaver. We burn about 10 cords of wood a year, and some of  that beaver-tree came home with me today. It's a little thing, but I am going to enjoy burning wood from a tree that, basically, was taken down by beavers at The Swamp. Like the woodies, beaver have rebounded tremendously. Beavers are causing flooding in a lot of places. I have never heard of any problems caused by woodies. In the bottom photo is the part of the tree chewed by the beavers about four years ago.
2022-10-14 ... Blankets
We have FullWeight Brown Fabric, plus Lynx Pattern Fabrics in both MidWeight and FullWeight, and so we have gone "live" with Blankets that use those colors. When we get our other Fabrics, the website will accept payment for more types of Blankets. Blankets will be made to order and shipped within a couple of weeks of when the order is placed.

2022-10-13 ... HACKED (semi-hacked, anyway)
We've had Chase banking since 1991. Chase had a mini-branch within the offices of my employer, and I could set up direct deposit for my paycheck. Plus, in those days, there was no online banking, and having the bank in such a physically convenient location was great. So opening an account with Chase was really a no-brainer, and we've been banking with Chase ever since. Plus, as one of the largest banks, they can do whatever you might want a back to do. A few years ago we prevailed on them for an unusual request, and it's a funny example of their services. Younger son Zack, our Financial Officer, is also a Chartered Financial Analyst, and he is very interested in the many workings of the financial world. Several years ago he thought it likely the price base metals such as copper and nickel would skyrocket. So he decided that eventually a nickel, the American 5 cent coin made of nickel and copper, would contain metal worth more than 5 cents. We drove to Chase in our truck and the bankers wheeled out cartons of nickels on hand trucks. It was a funny scene. Cartons of nickels are heavy, but not worth very much. So a lot of weight and space is occupied by not much money. But Zack's point of view is that a nickel will always be worth 5 cents ... We've had quite a bit of inflation between loading up on nickels and now. And the metal in a nickel is currently worth about 5.5 cents. Although I think a year or two it was as much as 8 or 9 cents.
Last night I could not get into our bank accounts. Online banking is so convenient! I use it probably 5 times a week. I guess if you are under 40 or 50 you never had to mail or physically deposit paper checks, or had to "balance your checkbook" and keep track of your transactions yourself until the monthly paper statement arrived in the mail. Compared to what we used to have, current online banking is tremendous and I really depend on it.
Last night, when I was locked out, Chase telephone reps would not speak with me at all, except to say I needed to visit a branch office with at least two forms of ID. Today I found out why. I'm relieved that nothing was stolen, but the scamsters had managed to update the phone number associated with the account. I don't know how they go about taking over someone's account, but the banker told me all they need to get started is the number of any of a bunch of accounts we have there.  The thief (thieves?) had phoned Chase three days in a row, but was unable to sufficiently establish his identity, so Chase froze the accounts entirely.
We restored the correct phone number, changed my login name and password and email associated with the account. So far it seems like no fraudulent transactions or theft has taken place. I need to review some more.
So, it looks like I've escaped with nothing more than a little inconvenience. But it's easy to see how this adds up. Chase handled my situation calmly and professionally, and it was kind of distressing to see that fraud/attempted fraud is just a completely accepted part of banking. Chase's posture, at least in my case, seems to have been almost completely defensive. Given their primary responsibility to protect the assets of their clients, that's to be expected. But I was hoping the banker might say something about referring the situation to law enforcement.
The fraudsters had changed the phone number on my account to, I suppose, their own: 562-303-0013. While sitting with the banker, I started to call the number, but she stopped me. She said to key in *67 and then the fraudster number. She said the *67 prevents my number from traveling along with the call. I did as she instructed, and the call seemed to be answered. I asked a couple of times for Billy, and we could tell someone was on the other end of the line, but it was disconnected after 18 seconds.
I think there is so much of this type of fraud that unless there is a large and successful theft, there is no attempt to investigate. A couple of years ago, when someone got my social security number and filed an unemployment compensation claim in my name, I was told this is extremely common ... too common to investigate. It had happened to the woman at the unemployment office, and it had happened to the policeman who took my report.
It really looks like this kind of fraud/theft has almost no risk for the bad guys. The cost of investigation, prosecution and punishment/incarceration is so great that the only reaction seems to be to erect barriers. But of course all those barriers are also very expensive.
2022-10-12 ... Brooks Brothers ... Lending Library Feedback
The guys at American Woolen (primary responsibility for turning our fiber into our Fabric) are going to like this! ... A customer stopped by today and we talked about a bunch of stuff. He told me about a recent visit to Brooks Brothers, where he was being fitted for a suit. He asked the salesman to hold his MidWeight Lynx Pattern Anorak while he tried on a jacket. The salesman asked about the Anorak and the Fabric and was very favorably impressed, saying he'd never encountered anything like it. Salesmen, of course, look for nice things to say. But on the other hand, fabric is a big thing at Brooks Brothers, and (I think) they would not compliment someone else's fabric without being sincere.
We started the Lending Library in September of 2021 and we've done quite a few transactions. It's worked really well. A few minutes ago I received a really nice note:
Hi Ralph,
I received the lender Anorak last night. I'll drop it back in the mail to you today or tomorrow. 
The Anorak is going to fit my needs perfectly. I'll be placing an order for a new one today.
Thank you for making these available for try-on. It's exactly what I needed to make the decision. I've wanted one of your garments for several years and it's nice to experience them first hand before purchasing. 
Thanks again, and I hope you have a great day. 
-Jared
THANKS JARED!!
2022-10-11 ... Nice Day! ... 10 Years!! ... Podcast
Started off this morning on the beach before sunrise. Striped bass are in the surf, and my buddy Bill has been chasing after them for 60 years or so. Bill has all the equipment and all the experience. I just tag along and do what he says.

I am definitely a sucker for sunrise over the ocean!
This month marks 10 years in that jacket, the first garment that passed my field testing. This is the Fabric formula we still follow.
The air was cool but the water was warm. I should have worn a bathing suit. I would have been really comfortable with the bottom half of me in the warm water. But the wool was nice on top!
Bill is a for-sure surf-rat, as they call the serious surf fishermen on the Jersey shore. Bill has been "reading the water" his whole life, and the first thing he wants to do as night turns to day is survey the water. He lives about 90 minutes from the surf now, so he is very particular about the conditions before committing. He wants the tide and the wind in our favor, and of course he is following the fishing reports. But once we get to the beach, he'll pick a spot with a little elevation, and he'll decide where we should fish. He points out bars and troughs and holes and cuts, based on how the surf looks. I don't see any of it. But Bill picked a spot where he thought the stripers ought to be feeding. And WOW did he nail it. The stripers were chasing menhaden, and the baitfish were jumping constantly. It was an intense and beautiful thing to see. But for us, it was frustrating because we couldn't get the stripers to bite on anything. With the beautiful weather and the fish feeding heavily and close to shore, our spot soon attracted a bunch of people, in boats and on the sand. But we saw only one fish caught. It was a beauty, probably 30 pounds (14 kg). After a few pictures, she was released.
A pod of whales was offshore, far enough out that we could see them spouting, but couldn't actually see the whales. But one of the whales passed by the beach quite close to shore, which was a real surprise to me. I don't know what kind of whales they were, but humpbacks are the most common here. One thing I really liked was watching a boat with two anglers. These guys had come in close to shore. Some of the casters could have landed their rig in the boat probably. The guys in the boat were focused on the fish in between them and the shoreline, and they didn't know a whale was nearby. The whale surfaced just behind them, and I could see how startled they were when the heard those monstrous lungs so close to their boat, then turned around and saw a whale!
If the weather holds and we get the right conditions, we will give it another try. Bill fishes year round.
In the afternoon, I spent a little time at The Swamp. It's "that time of year", and I needed to clear some trees that were blocking our access road. The trees were mostly small, but one was pretty big, and I like the story behind it.
Beavers are common in parts of New Jersey, and they've been spending time at our place. It doesn't look like we have any resident beavers now, but there is still plenty of evidence of their recent presence.
I took this photo in about 2018. The tree is probably 20 inches (half-meter) at the base where an ambitious beaver began to do the beaver-thing. Although the beaver never finished the job, the tree died a couple of years later. And then a stiff wind took it down, closing off our road. Cutting it up with a chain saw and clearing the road was no big deal, but nevertheless I like that beavers are a force of Nature at our place, which is only 20 miles (32 km) from New York City.
Mark Greene bought some wool from us in 2018, and in 2022 he began podcasting. WeatherWool was the subject of his fourth podcast, released 2 March 2022: Mark In the Wild Podcast. Mark wrote today to tell me he's mailed an Advance Reader Copy of LOBSTER WARS, his new novel. I'm looking forward to reading it! THANKS for the book, Mark, and THANKS for hosting me on the podcast!! From all of us at WeatherWool, best of luck with both ventures!
2022-10-10 ... Acclimation
People frequently ask me what clothing is suitable for what conditions. And part of my response is always to inquire about the background of the person in question. There are a great many variables to consider, but the person him/herself is the most important.
I had an interesting conversation today with a customer in Canada. Most Canadians live within 100 miles or so (160 km) of the US border. Canada is a very large country, and stretches far to the North. The customer lives maybe 800 miles (1280 km) North of the US border. So, even though Canada still stretches quite a bit farther, I'd say it's fair to say the caller lives in Northern Canada. We got to talking about how different people react to the same conditions, and for that reason I normally ask where a person is from as well as what conditions they want to prepare for. In this case, the customer is an American, living only about three hours drive from the Canadian border. In other words, a guy who grew up with a significant winter. But now he lives and works and hunts and fishes with people who have a very long history in a place that's a lot more severe than the caller's home. So I said something about how he is probably quite cold-tolerant compared to most people, but not compared to his neighbors. He heartily agreed. He and his friends are often out in temps around -30C (-22F) and the friends all have the perspective they need to keep an eye on him because everyone knows, even though he's been there for years, he still does not withstand serious cold as well as the rest of the group. He also noted that when he comes in from the cold outdoors, his hands will feel cold, and the local people's not. So if they shake hands, he feels a warm hand and the local feels a cold hand.

I haven't actually researched this, but my impression is that Canadians tend to buy our MidWeight pieces more frequently than Americans.
2022-10-09 ... PayPal (Withdrawn) Confiscation Policy
So PayPal announced and quickly withdrew an advisory entitling themselves to take up to $2500 from customer accounts as penalty for spreading MISINFORMATION. I've not yet been able to find the original announcement, nor PayPal's definition of misinformation.

Although PayPal immediately withdrew the policy and declared an error, it seems clear this is their thinking, and the way they want to go.
Some of our customers really like PayPal, although I have never used it personally. Maybe I'm just too old to have caught on to it. As a vendor, we try to facilitate our customers, and so we accept PayPal. (We used to accept Amazon, but Amazon said we'd need to discontinue WarriorWool, so we discontinued Amazon instead.) For us, PayPal is more expensive, slower and less convenient than credit card payments. PayPal is like a completely separate bank account. which is significant because it's more difficult for us to be sure funds are deposited properly into our accounts. Credit card transactions go into the regular bank account and PayPal transactions go into the PayPal account, and the timing is different.
It seems, astoundingly, what PayPal wants, and plans, if that if they disagree with my claim (observation!) that WOOL STOMPS THE COMP, they can grab $2500 ... and how often will they decide they can do it?
Accepting credit cards and PayPal is more expensive that many people realize. As detailed in the info about WarriorWool, it costs us about $395 to fulfill an order for an Anorak. The regular price is $625. PayPal takes about 3.9% of the entire $625. So in the case of the Anorak, it's pushing 10% of our margin.
But all the foregoing is, maybe, fluff. We are about wool, and we don't feel politics has a place on our website. We are 100% American, The Flag is on our garments and our house (which is pictured on this site), but that's about as political as I have wanted to get, in the context of WeatherWool.
PayPal's withdrawn plan -- but evident desire -- to levy fines based on speech is a real issue to us. This news just broke, so ... we'll see what other info comes out.
Maybe we should invite people to send paper checks or money orders. Very, very few people do that now. But the credit card processors are almost as expensive as PayPal, and may well be working on policies similar to the one PayPal has just denied.
Please let me know how you feel about PayPal, credit cards, Amazon Pay, Apple Pay, etc. THANK YOU. And sorry for a rant that is not related to wool!!
2022-10-08 ... Happy Ending!
In June, we shipped a couple of pieces to a great customer in a part of the world that has had more difficulties than most Americans are used to. But after about three months, the package was returned to us as undeliverable. We sent an email or two, and received no response. Given that it was almost four months since we'd shipped, we were concerned about our customer's well-being. So I decided to go old-fashioned -- DUH -- and phoned him. It was a very pleasant surprise when he answered the phone, and understood right away why I was calling. He was busy, and said he'd get back. It was nothing more than a (BIG) glitch in the local postal delivery system. We will re-ship the original items, along with an additional few items that he added to his order.

2022-10-07 ... Call Screening! ... For Dad! ... "Alex Trucking" ... TOP ... Protos
A half-hour ago, a customer was having trouble placing an online order, so he placed the order over the phone. We view every order as an honor, a privilege and an obligation. But particularly an order like this one; a gift of a Hooded Jacket for our customer's 90-year old Dad. Usually, when I'm speaking with a customer, I'll review his (we have not yet earned many female customers) previous orders. Daniel told me he was actually wearing the MidWeight Lynx CPO he'd purchased a couple of months ago. He said the women at the bank an hour before had been very interested in the wool and the Lynx Pattern, saying they thought their husbands would really like it. Daniel also said people's reactions to the Lynx CPO are very different than to his Duff Anorak. People remark on the Lynx and ask to touch it. The Duff is almost the opposite ... very much under the radar, at least compared to Lynx. [Actually, I got another call today from another customer who travels and works worldwide in his Lynx Pattern Anorak. He said people in many places are attracted, admiring the look and want to check the hand of the Fabric.]
Yesterday, we loaded the pickup with 520 yards (476 meters) of Fabric in FullWeight Lynx Pattern and FullWeight Brown (Duff) Fabric. We also had an assortment of other items the tailors need, plus about 15 large corrugated boxes, opened up and lying flat. I was pleasantly surprised all that fit comfortably in the truck. And it was nice to have Alex drive off and handle the delivery to Factory8 in the Garment District of NYC.
THANKS to Alex for handling today's trucking!
Alex delivered the load to Factory8, where Advisor JR Morrissey will oversee the production of All-Around Jackets and Double Hoods in Duff and Lynx and Anoraks in Duff. Lynx Anoraks are already cut and ETA is 15 November.
Unloading at Factory8 in the Garment District of NYC.
Early this afternoon, I noticed my phone said it was SCREENING A CALL. I recognized the number as Upstate New York, a good place for WeatherWool. But I couldn't figure out how to actually answer the call, and the phone decided the call was SPAM and hung up. But at least I was able to return the call, and it was in fact someone who wanted to work with us. He told me he'd been trying to reach me for weeks, but that I'd never answered. I had never set the phone up to screen calls ... at least not intentionally. And when a call comes from a number that has already been flagged as SPAM, the phone still rings and I can answer. But the call screening -- in complete silence -- really puzzled me. Hopefully Alex got it turned off!
Alex came home with a huge load of Remnants, but most importantly he also brought the TOP (Top Of Production) of the Lynx Anoraks:
The TOP is the last chance to make any changes. And whatever changes might be made must be really minor, concerning details of sewing, perhaps, and that's about it. The Fabric has all been cut. Debby usually has a couple of requests anyway. But it's a "fantastic sew" as it is. Great work Factory8!
Also today, we met with Martin DiBattista at Better Team USA. We are lucky to have two nearby tailoring/production shops that have done some great work for us, as right now we have a lot on our plate. Factory8 will be moving forward with some other pieces I will cover in the weeks to come. And Better Team today showed us the first prototypes of a ShirtJac and the Peacoat. Better Team worked with American Trench a few years ago to make Peacoats from our Fabric. And Martin is actually pictured (the guy in front of the Starbucks) on the Peacoat-page of this website. Yesterday, a customer phoned to tell us he wants to look like the guy in the photo in front of Starbucks. Kind of cool, because that guy made the Peacoat.
2022-10-05 ... Oldest Backorder Yet? ... Internet Slowdown Resolved?
Yesterday we filled what must be the oldest backorder we have ever filled.
Because our normal practice is to accept backorders without deposit or advance payment, we get a great many backorders from people who, evidently, have no intention of actually working with us. It's quite common for me to send two or three emails and perhaps a text message and get no response. But I don't want to delete a backorder without hearing from the customer. So we have some old backorders on our books.
And sometimes, we just haven't been able to make what the customer has wanted for a long time. Yesterday we filled a backorder placed by TZ from Minnesota in June of 2013! I am pretty sure that's the oldest backorder we've ever filled. In 2013, we didn't really even have production going yet. Way back in 2011, I was sure we'd have production going in 2012, and I booked a booth at a big show. We wound up with a big space, almost entirely empty. It actually worked out OK ... or semi-OK ... but I didn't learn much because I booked another booth at another big show for 2013 ... and the same thing happened again. We had almost nothing to show, but we did have a few prototypes. And TZ placed an order based on the prototypes.
When orders come in online, our practice is to check whether the customer had a previous backorder, and in this case I was a little amused and pretty surprised to find we still had TZ's 2013 backorder on the books. And of course we honor the price in effect at the time of the original order. So TZ got a nice refund.
We sure hope the Hooded Jacket was worth the wait!!!
For the last couple of weeks, we've been having weird slowdowns on our office internet. It's prevented us from doing some things. Or made us delay some types of work. Debby's workstation was fine, but Alex and I were hamstrung. Alex eventually fought his way through the answer machines and looping help menus and finally reached an actual human in Verizon tech support -- a supervisor -- who blithely informed him that they'd made some hardware changes in our area, and the change had caused problems. He modified an electronic setting somewhere, and it seems to have gotten us back on track. As a long-time tech support worker, I am, again, amazed but not surprised that the improvements caused problems, and that Verizon's plan was not proactive, but to instead address problems when reported. On the other hand, the performance is miraculous compared to the days when I was dialing in at 1200 baud via an acoustic coupler: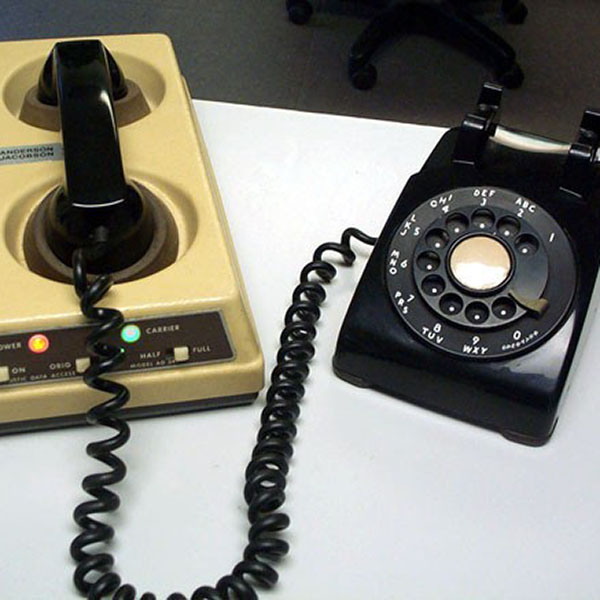 This is what my first remote online connection looked like. And I was mighty thankful for it! There was no screen. The acoustic coupler was connected to a very very slow (slower than reading-speed!) grease-paper printer. And actually, in 1980, even the acoustic coupler was great because it let me work from our apartment instead of going into the office!
I admit to being very spoiled!!
2022-10-04 ... Cutting Anoraks ... Email Jail
Yesterday I was following up on backorders for Anoraks and All-Around Jackets and I reached the 500 mails/24-hour-period limit. So I am in "email jail" until about midnight tonight. I have sent out some mails from an alternate address, but that's confusing. This is almost like a forced semi-vacation.
Advisor JR Morrissey is overseeing the current production of Anoraks in FullWeight and MidWeight Lynx Pattern. He sent these photos from the cutting room:
This stack is 46-plies high. Almost 15 inches (38 cm) tall.
The cutting machine is a beast.
The pins that help hold the stack together can be seen on top of the marker. The marker, a huge sheet of paper placed on top of the stack of Fabric, bears the outlines of the various pieces of the pattern, and is the guide by which the Fabric is cut.
 This is the back panel of the Anorak
Really looking forward to getting these shipped out! No ETA yet, but I hope before Thanksgiving.
We stopped off briefly today at Fleck Knitting to pick up some more woven drawcord.
We had been using synthetic shock cord to adjust the Hoods of the Anoraks. But Debby got the idea to try weaving a cord (like a stretchy shoelace) from some of our own yarn, and we very much like the result. So the new Hooded Jackets have the woven cord, and we'll use it in the upcoming Anoraks, as well.
 Improvisation. Make it work!
Young Matt Fleck, heir to the throne at Fleck, impressed me today with a nice story of improvisation. One of their machines went down when a belt broke. And a new belt is coming. But Matt didn't want to wait, and so he knitted a belt from some nylon that was lying about, and it will keep the machine in action until the proper belt is delivered. Nice work MATT!
By accident, we had left a souvenir ball cap in the box of yarn we delivered to Fleck to knit the cords. The cap was from a 1995 vacation to Newfoundland and Labrador, and Matt's improv, plus the hat, reminded me of a really nice incident from that trip. Our van broke down at the Northern tip of Newfoundland, just across the Strait of Belle Isle from Red Bay, Labrador, where we got the cap. We were about 1600 miles (maybe 2560 km) from home, near the Northern tip of the Great Northern Peninsula of Newfoundland, and the local mechanic said it would take several days to get a new water pump. We didn't have several days, so the mechanic MADE the piece needed to repair our water pump. And his fee was quite nominal. He said that sort of thing is standard operating procedure up there. We can use a lot more of the spirit shown by Matt and that mechanic!!
Matt also toted the our cord out to the truck for me. He knows I'm not altogether thrilled by his help-the-old-guy-courtesy, but the manners are very nice!
So far, at least, we are really happy to replace the synthetic shock cord with woven! Great thinking, Debby!! I love that Debby grasps so many aspects and possibilities of machines and manufacture so quickly. This part of the business mostly just bounces off me.

2022-10-03 ... FALSE SELVEDGE (more stuff I don't know about!)
In the 2nd quarter of 2022, for the cost of shipping, we decided to offer Fabric Remnants to our customers. People have ordered a lot of them. We're happy people are finding uses for the remnants. And so in September of 2022, we decided to offer what I have been (ignorantly) calling Weaving Selvedge or Weaving Remnants. I used those terms because they are descriptive. But the correct term is False Selvedge, which is a kind of surprising moniker.
But anyway, these following diagrams and text make clear what the False Selvedge is. BIG THANKS to Brian Kunetz of MTL (our world-class weavers) for this material (and some much more important stuff, too!).
In the photo above, the CUTTER is shown removing the False Selvedge from the  Woven Selvedge of our Drab Fabric. The False Selvedge is usually given to charity but if our customers can find uses for it, we will continue to offer it on our website.
Depending on the Fabric being made, there may be a few polyester threads running through the False Selvedge. Otherwise, Brian wrote, "the false selvedge yarn is the exact same weft (or filling yarn) for the body of the fabric. It gets inserted from the entry side of the loom and continues thru the shed to the exit side where it is cut off.  And on and on and on….."
"the false selvedge or waste selvedge ... is trimmed off in/during weaving. It is a byproduct of weaving that may or may not occur depending on loom type. All our looms have this setup."
The false selvedge of our Lynx Pattern has a few white threads at the edge where it is cut from the fabric selvedge. Brian explained: "The white threads ... are a 30/2 Spun Polyester natural yarn. This yarn is the interlacing for the filling tails on both sides of the loom, and it is fed via a bobbin. Separately, the fabric selvedge contained in the edges of the fabric is woven with the warp yarn itself."
One more lesson for me. Lots more to come!
2022-10-02 ... Wool Week!
According the the British Campaign for Wool, this is WOOL WEEK. Sounds great to me, and I very much appreciate the spirit. So, what are the Wool Week Events? A visit to the website shows only this:
Really ... The HEADLINE of Wool Week -- organized and promoted by the Campaign for Wool and sponsored by the British Crown --  is that wool makes good garbage? No wonder the public has moved so far from wool, and people are unaware of what wool can do. If "good garbage" is the best you've got, better to keep quiet. Apologies to the Campaign for Wool folks ... I have no idea what's going on with them, what their constraints are ... but WOW!
Here are some ideas. The biodegradability is terrif, but "good garbage" is no place to start! I don't even think environmentalism is the place to start. But if that's your lead, how about:
Where does wool come from? Polyester? Nylon?
What is real fleece? And why do the petrochemical-clothing makers refer to their plastic fluff as "fleece"?
How much water if used to grow cotton? Wool?
What kind of land is suitable for raising sheep? (They can thrive in places that are not suitable for much else.)
Permaculture ... Sheep, through their bodily wastes, nourish the soil, which in turn nourishes the sheep. A beautiful virtuous cycle. See the bottom of this page from Advisor Andy McMurry, who is very dedicated to sustainable ranching
Besides wool, sheep give us meat and milk. Some of the most-admired cheeses are, by definition, made from sheep milk
For thousands of years, sheep have sustained people, who in turn have sustained the sheep
How about comparison of wool to other materials used for:
Clothing
Wall coverings
Rugs
Upholstery
Bedding
Insulation
And probably lots of other uses.
How about:
Farm tours
Videos. Everybody is doing vids now. Updated regularly.
Educational materials?  From FARM to … end user (meat, cheese, wool products)
Invite the public to participating ranches/farms? Show shearing, milking, let the kids interact with the animals
Traveling demos. In the cities. A lot of cityfolk have no idea
Materials for schools
Mill tours
Promotions with grocers, cheese shops, and clothiers
Museum

2022-10-01 ... Visit to American Woolen ... Visitor from Belgium
Yesterday Debby and I made a run up to American Woolen to:
pick up our Duff Fabric
talk about whether American Woolen can turn our Fabric into Stadium Blankets. Our bolts of Fabric are just wide enough that a Stadium Blanket is basically two running yards. So making a Stadium Blanket mainly requires merrowing and whip-stitching the edges
discuss weaving and finishing techniques with Arthur Lam, who has 30 years experience working with wool!
discuss long-term, strategic possibilities with Jacob Long, owner of American Woolen. Jacob has a vision to create (recreate!!) and nourish a wool-based ecosystem in New England ... specifically in Stafford Springs, based on the facilities of American Woolen
The "Duff" Fabric is beautiful, with a wonderful hand, but it is darker than Duff, and we are going to call it Brown. We'll have to explain to people who ordered Duff, and we'll have to address the darker color on the website. I don't think the Brown will discourage many people, but it is definitely a different color:
We will work with it, but need to get back to our own Duff for Batch 9.
 Here, Debby speaks with Arthur Lam.
I love getting guys like Arthur to talk shop, because they have such a store of knowledge, and because I really enjoy hearing about the interplay of art and science that is necessary to create the wonderful "hand" that has been the specialty of Loro Piana, who operated the mill for over 30 years.
Arthur grew up in Hong Kong, and went to Scotland at age 17 to study woolens and weaving. Not long after graduation, Arthur got an offer from Loro Piana. In the field of woolens, if Loro Piana makes an offer, you accept! Arthur worked a year or two Stateside, and then was offered a career position at Loro Piana headquarters in Northern Italy. Arthur stayed at LP/Italy for four years, but wanted to raise his family in the USA, so he came to Stafford Springs in 1998 and has remained there ever since ... through the transition to American Woolen. For us, having the LP experience with both Giuseppe Monteleone (plant manager) and Arthur is really fantastic. These guys really know how to put the LUXURY in our Hardcore Luxury® Fabric.
Since the beginning of WeatherWool, we've hoped to help people in the many different fields within the American Wool Industry to get to know each other better. Our Partner Relations page is a small step in this direction. The wool industry is hardly the only one where people don't much know the folks who work upstream and downstream. But Jacob and I both believe getting people more in touch with, essentially, their colleagues and teammates can bring about some good things.
It happens that the American Woolen Plant has a great deal of available space, and Jacob is dreaming about and working toward creating a "wool-based" ecosystem in the American Woolen plant, the surrounding area and even New England itself, which at one time hosted just the sort of ecosystem Jacob envisions. We want to help make this happen!
 Jacob and Debby talk about possibilities for this large space, which is only a fraction of what is available!
Lastly, below is a photo of Sander (in his new CPO!) from Belgium and me. Sander had flown in from Belgium just an hour before, and was headed to Upstate New York to spend time with friends. We are a short drive from Newark Liberty International Airport, and travelers find it convenient to visit us if "EWR" is in their plans. A few years ago, a customer left his car here for months while he traveled in Europe!
 Welcome to the USA, Sander! We hope you have a great time in America and that the CPO serves you well for many years.
One other thing (really the last thing for today) that was pretty cool ... "JLo" (not the singer!) from Minnesota called today. While we were talking on my mobile phone, Debby and I left the house. Debby was about to close the garage door when I called out a warning that she'd be stung by yellowjackets if she moved the door. JLo asked if these were the same little nasties that had stung my ear pretty good a couple of weeks ago. He was right, and said he reads this blog. Many Thanks to all the readers!
2022--09-30 ... Remnants and Weaving Selvedge
Somewhat to our surprise, the tailoring remnants that we didn't have a use for but couldn't bring ourselves to throw away have been fairly popular with customers. A few months ago, we decided to offer bags of Remnants as (sort of) a product. And much to our surprise, a lot of Remnants were ordered. So many that we ran out of remnants we had here at the house (YAY!), and I needed to make a run out to Pennsylvania, where we have some odds and ends in storage. I originally priced the Remnants at $15, but the shipping was often more than that, particularly given that quite a few bags went to Canada. So, as of now, the price is $20.
Along these lines, we had stored in Pennsylvania another type of remnant ... Weaving Mill Selvedge. So, I returned home yesterday with a good load of Remnants and some Weaving Mill Selvedge. May as well see if anyone can do something with it!
2022-09-29 ... "Would You Wear Plastic?"
Some recent posts here have been about the environmental-impact aspects of wool versus synthetic clothing. I still think attention should be focused on the quality comparisons, but environmental aspects are lately drawing people toward woolens.

Woolmark is the marketing and education arm of the Australian Wool Industry.  They put out a lot of great information and WeatherWool gratefully acknowledges their work on behalf of everyone who loves wool.  This website frequently links to material from Woolmark, and these photos are borrowed with GREAT THANKS from Woolmark's Instagram post of a week ago:
Wool has nowhere to go but UP and I think the pendulum is already swinging in the Natural direction. WOOL STOMPS THE COMP!
2022-09-28 ... Instagram Story, Poll, "the best" ... We sell Fabric
We don't advertise in the usual sense. That is, we don't run paid ads anywhere. But this website, plus YouTube, Instagram and Facebook are important advertising media. It's pretty great that people can search YouTube, or the web itself, and find us. Instagram is also important to us, and we need to get a lot better at it, particularly me. Lately, Denali has taken over Instagram. Today, she "reposted a story". An Instagram story disappears in a day, whereas a typical post is permanent. It's good Denali handles, because I don't understand more than the basics. When I saw this story ...


This story was the basis of my Instagram lesson for today!

 ... I was a little distressed, because I thought it was Denali saying "the best". I'm careful to say we are "trying to be the best". And I would love to test, on an All-Purpose basis, against anything else. But I don't feel it's our place to say we're better than anything else. Denali explained about "reposting" someone else's story, and here is a still from the original story (which is a video clip):

THANKS to Ruby (now with Phenix Threads) for describing us as the "Best wool fabric in the US, maybe world"!!
Denali reposted the story from Ruby Spring, now of Phenix Threads. And if someone else says we're the "Best wool fabric in the US, maybe world", I'm happy to accept the compliment, although I also want to know about the "maybe" part.
The other part of my Instagram lesson is that Denali added a poll question, and people did request more information. We are happy to sell Fabric, and we love to see what people do with our Fabric. Ruby has made custom pieces with our Fabric for a number of people, including herself. We first "met" Ruby when she ordered an Anorak for herself. And, as the saying goes, one thing led to another. We are happy to recommend Ruby to people who want custom pieces made.
And I have a lot more social media and web lessons in my future...
2022-09-27 ... Water? ... Pajamas?
The entry from 17 September covered the London Fashion Film Festival's award of Best Documentary to Why Wool Matters. The amazing thing to Debby and me is that the film did not present information about why wool makes such great clothing. And now I'm hearing about people who want to invest in wool and woolens and the wool industry because ... because growing wool and turning it into clothing uses much less water than growing cotton and making cotton clothing. Again, the focus really surprises me.

A few days ago, a Friend of WeatherWool ordered a CPO. He called today to tell me he needed to size up. BUT, his Mrs was keeping the one they already have. We really love it when The Mrs likes our wool, partly because of the great finish created by the team at American Woolen. He also said we need to make pajamas!
2022-09-26 ... Coming Soon: Wool-Lined Wetsuits for Surfers
Not from us. But I just saw an Instagram post. Australian surfboard maker Haydenshapes is working with clothing maker Dion Lee and The Woolmark Company (Australian Wool Industry group) to make wetsuits lined with merino for surfing. I have never surfed, and have never worn a wetsuit, so I can only say I am happy to see wool used in a way I would not have expected. I'll need to talk to some people who wear wetsuits and surf. The wetsuit line debuted this month at New York Fashion Week. (I don't know fashion, either.)


This wetsuit is lined with Merino Wool
I hope Haydenshapes will be OK with me using this photo from their post.
THANKS!! (in advance!)

For years, our wool has been worn by divers under dry suits. And one of the world's most famous SCUBA teams wears our wool AFTER diving. But a wetsuit is a whole new thing.
2022-09-25 ... Thanks to Everyone Who Stopped By Today!
We had a really nice time with our Open House guests today. Some guests new, some old, and some sort-of-old but we had never met face-to-face before. It's always a kick for us that people are interested in what we are doing!
We had a little fun with a slight young woman trying on a Mouton Greatcoat that we'd made quite a while back for a guy who was twice (at least!) her size. She topped off with a Mouton Hat.
2022-09-24 ... Well, this is Interesting!
We very much appreciate appreciate reprinting this short piece -- from Apparel Insider – concerning the donation to a charity of Patagonia (the clothing company) by its founder:
VENTURA -Yvon Chouinard, the billionaire owner of outdoor clothing brand Patagonia, has given away the company to a charitable trust which will inject any profits not reinvested in the business into fighting climate change.
The 83-year-old founded Patagonia in 1973. He said the new ownership structure would potentially see US$100m annually being given away to environmental causes.
The Chouinard family and existing executives will continue to run the business.
The Patagonia label has amassed a cult following due to its sustainability work. The company made global headlines for its famous advert titled "Don't buy this jacket" asking shoppers to think about environmental issues. The irony of the campaign is that it was hugely successful in terms of raising the company's profile and potential sales to a wider audience.
Patagonia's website states: "Earth is now our only shareholder."
Mr Chouinard, a rock climbing enthusiast, once went on record as stating that he "never wanted to be a businessman."
Founded in 1973, Patagonia's sales were worth around US$1.5bn this year. Chouinard's net worth is thought to be US$1.2bn.
I would be very interested to hear Mr Chouinard's thoughts on woolens.

2022-09-23 ... Shipping
Today is all shipping and inventory work.
One cool thing ... Shipping an Anorak to Kuwait today. First time we have shipped to Kuwait although Military people have been all over the Middle East with our wool.
And last night, a customer from Alaska sent me a great video. He was hunting moose for his winter's meat, and hurt his ankle, which meant sitting an ATV instead of hiking. On the seat of his ATV was his Lynx CPO ...
... when a real Lynx came along!
2022-09-22 Again ... ALONE: FROZEN Finale and Mountain Men
At 8PM Eastern tonight there will likely be people on History Channel's Mountain Men wearing WeatherWool. We never know in advance what footage will air. The Mountain Men also don't know ... they find out when they watch, same as everyone else.
Immediately following Mountain Men, at 9PM, also on the History Channel, is the Season Finale of ALONE: FROZEN. Three women are still struggling to last 50 days on the Labrador Coast. Whoever makes Day 50 gets a share of $500,000. Six people started and three women remain, one of whom, Callie Russell, is wearing one of our Anoraks. More info about ALONE here.

2022-09-22 ... NYC Change-up and Hooded Jackets
Debby and Alex spent the day at Factory8 in the Garment District of New York City. Advisor JR Morrissey had just completed work on a nice batch of MidWeight Lynx Pattern Hooded Jackets. Debby and Alex (mostly) do the Quality Control, so I stayed home. Factory8 did a great job (YAY!)! After a day of final QC examinations, they returned with the Jackets in early evening, and the Jackets are now available. 
I'm pretty sure this was the first time Debby and Alex did an NYC run. I picked up granddaughter Zabz after school and we spent a few hours together before Debby and Daddy returned. I spoiled her as best I could, but she's a very focused kid!

We're shipping the Hooded Jackets now and getting ready for an Open House on Sunday.
Also ... it looks like in the next few weeks we'll be making a small run of CPO Shirts with extra-long sleeves. Please let me know if you want.
Welcome to Fall, everyone!! (Welcome to Spring if you're in the Southern Hemisphere!)
2022-09-21 ... International Again
It's a kind of weird coincidence that much of my earnings for the 30 years before WeatherWool came from outside the USA. At AT&T in 1979 and into the 1980s, I was a contractor with "Long Lines", which focused on long-distance connections, including international calls. And then, although Bell Labs was sponsored domestically, I worked with a group that focused on international sales of telephone-system operations software. After "The Labs", it was an Japanese-based trading group at Morgan Stanley. I was in NYC, but the group was funded by earnings from Tokyo. And then with the hedge fund research, for 10 years almost all our revenue was from outside the USA.
With WeatherWool, I never expected or thought about an international presence. Canada was natural enough ... there is almost no language barrier and no import duty. And the Canadian border is only 6 hours by car.
But it's an unexpected and really delightful surprise that international customers and work is an important and frequent part of WeatherWool. Our products have always been and will remain 100% American, but we are honored by the international interest in our company.
This morning (it's not yet 7AM):
I got another note from the China-based scamsters (see yesterday's blog). I did not reply to the note, but reserved the domain WeatherWool.CN for 5 years for $30. It will forward to this site. [Update of 1 October 2022: The registration was denied. I think this is because WeatherWool does not have an business registration in China.]
We are hoping to soon have a Japanese-language website (see the Japanese entry on the Main Menu!) and I need to get back to Jeremiah Goodman, our Advisor in Japan. Jeremiah is an American who, together with his Japanese wife, is raising his children in Nagano Prefecture, in the mountains a few hours from Tokyo. Jeremiah wrote me suggesting more video. That's a big YES! Thanks Jeremiah!
A very discerning gentleman from Bulgaria wrote to tell me that although he has been searching for a WeatherWool substitute in Europe, he hasn't been able to find one. We are really grateful for Ivan's efforts and kindness.
The note from Bulgaria reminded me to follow up with Kristof in Hungary, who purchased enough of our Fabric to make several garments. Kristof got back to me right away. He is thrilled with his own garment, but the tailor was still working on his girlfriend's when her (the tailor's) life changed. Hungary has a border with Ukraine, and the tailor is Ukrainian. Her life has been disrupted with the war and with helping refugees. Among other things, she is helping families who have escaped Ukraine to re-unite in Hungary.
A customer from South Korea, who is looking forward to replacing his All-Around Jacket and Double Hood with new ones, reminded me that I had promised him a USD-KRW exchange rate that is lower than the current. And with another US interest rate hike expected today, the US Dollar will probably continue to increase against the Korean Won.
And even on the American side, things are international, in a way.

I'm corresponding now with an American Military Vet who is currently a government contractor looking to get some WeatherWool right away for work that will take him to Northern Hemisphere countries where he'll soon experience some real winter weather. We're hoping we can get him what he wants before he deploys, but we may have to provide him with something temporary, and then switch.
A commercial seaman who has a few Anoraks, at least one of which is always with him, has just sent several photos of today's glorious sunrise off the East Coast. I think he's still within US waters, but his work takes him into international waters and Caribbean destinations
An American living in Norway just reserved an Anorak. Except for Canada, we surely have more Norwegian customers -- as a ratio to population -- than any other country
With all the international work (let alone international events) on my mind this morn, the local scene is remarkably peaceful. A sweet morning on the last full day of summer. I see from my office window my neighbors out walking and jogging and heading to the New York City train. Whitetail deer are feeding on my lawn (we use no chemicals at all ... a "wild" lawn offering natural forbs) with very little concern except to keep an eye on the dogs being walked on leashes.

2022-09-20 ... Another Chinese Scam (new one to me)!
On Sunday the 18th, this email was sent to me:
Country Code: US
Name: Wade Liu
Email: wade.liu@chinaregistry.net.cn
Phone: +86-216191 8696
Body:
(Please kindly forward this to your CEO, because this is urgent. If you believe this has been sent to you in error, please ignore it. Thanks)
Dear CEO, This email is from China domain name registration center, which mainly deal with the domain name registration in China. On 19-09-2022, we received an application from Hongqing Ltd requested "weatherwool" as their internet keyword and China (CN) domain names (weatherwool.cn, weatherwool.com.cn, weatherwool.net.cn, weatherwool.org.cn). But after checking it, we find this name conflict with your company name or trademark. In order to deal with this matter better, it's necessary to send this message to your company and confirm whether this company is your distributor or business partner in China?  
Best Regards Wade Liu
Service & Operations Manager
China Registry (Head Office)
Tel: +86-2161918696
Fax: +86-2161918697
Mob: +86-1381642867
16012, Xingdi Building, No. 1698 Yishan Road, Shanghai 201103, China
I wrote Mr Liu that we do NOT have an affiliate in Hong Kong and that we'd appreciate if he would block the domain requests.
Yesterday, I received this note:
To whom it concerns,
We will register the China domain names "weatherwool.cn" "weatherwool.com.cn" "weatherwool.net.cn" "weatherwool.org.cn" and internet keyword "weatherwool" and have submitted our application. We are waiting for Mr. Wade Liu's approval. These CN domains and internet keyword are very important for us to promote our business in China. Although Mr. Wade Liu advised us to change another name, we will persist in this name.
Kind regards, Zhihai Ning
This definitely had me going, so I forwarded the mails to Polson Intellectual Property Law. I also left a voicemail for Margaret Polson. We've relied on Margaret and her team for about 15 years, since before WeatherWool.
Margaret sent a mail back right away, but before I saw the mail, she rang me up to tell me to relax and forget it, explaining this is a very common scam. The idea is to get WeatherWool to agree to pay some money to acquire the domains and to compensate the fake company for backing off their fake business plan. Margaret said many of her clients have received similar notices.
One of the reasons these notes elicited a very strong reaction from me is that for the last two or three years, an apparently Chinese parent company has spawned a bunch of fake and sleazy affiliate companies that run ads using still photos and video stolen from us and others.
In any case, we actually do have a few customers in China, Hong Kong and Taiwan, and with the help of Polson Law, we may register WeatherWool as a trademark in those jurisdictions. A customer from Shanghai is actually in the garment business, and told us WeatherWool would sell extremely well in a certain store in Shanghai.
2022-09-19 ... For Dad ... World Record ... Image/Presentation
Last week we had a conversation with a customer who had just purchased an All-Around Jacket. He had a lot of nice things to say, and we always appreciate that. But also, he had some insights for us. As a businessman with decades of experience, he had analyzed our situation quite well, and i was impressed someone could figure us out so well so quickly. The caller is not an outdoorsman at all. He wanted the wool because it gets cold in New York City. He mentioned walking the dog on Riverside Drive. The winter wind can really howl along the Hudson River. He had been thinking about getting some Filson, and I was amused at his assessment that Filson seeks to appeal to city-folk who want an outdoorsy feel and look but don't really get "out there". I am sure Filson would say they also want to appeal to people who really do get out in Nature and in serious weather. (At this moment, the Filson website landing page shows a guy riding a horse in a stream. On his saddle is a scabbard holding a rifle. He is leading a pack mule and a pack horse, and the horse is carrying elk antlers. The portrayal could hardly be more non-city!) The caller first learned of us when researching Filson and a reviewer suggested WeatherWool as an alternative. The interesting part to me, though, was that the caller said if he had somehow come directly to our site, he would quickly have moved on, because he felt our website indicates we are strictly for heavy-duty outdoor use and not at all intended for urban and suburban customers. I was dismayed to hear that, because we've been trying to convey that WeatherWool -- Hardcore Luxury -- offers hardcore performance in a luxury garment, and is very definitely suitable for a gentleman out for a walk on Riverside Drive. And if Riverside Drive in winter is the most severe situation he (or she!) will face, we'll gladly have our garments evaluated on that basis. But if the New York City stroller is also apt to hit the Adirondacks in January, that's in our wheelhouse too. [Adirondack Park is 3 hours from NYC, 6 million acres (2.5 million hectares) and winter can be severe.] I need to figure out how to make the website look and feel and instantly convey the Hardcore Luxury concept.

I am impressed that one of our customers, Tai Menz of Cape May, New Jersey, is the holder of the Spearfish World Record Weakfish! I think Tai is the only World Record Holder I have ever met. The Jersey Cape, the Southeastern peninsula of Jersey, is a tremendous place for Nature lovers, and Tai is definitely one of those. Debby and I spent a day with Tai about 2 years ago when we were wondering about moving down to the Cape. It's a special place, and is actually America's first resort town. Tai and his record weakfish are both from the Cape, along with the Tautog Spearfish World Record. The Spearfish World Record for Fluke is also from Jersey. Tai is a realtor, and if you have any interest in South Jersey Real Estate, get in touch with Tai.

Tai with his 11.8 pound (5.4 kg) World Spearfishing Record Weakfish in 2009
We really like it when people make their own pieces with our Fabric. A year or so ago, Ruby Spring, now of Phenix Threads, bought an Anorak for herself. Then Ruby got some of our Fabric to implement her own designs.
2022-09-18 ... Inflation, Exchange Rates and Import/Export
WeatherWool exports about 15% of sales, and we do not import anything. With exchange rates what they are, we're on the wrong side of things. Our great friends in Canada are by far our largest export market, and with the Canadian dollar at 75 cents US now, our wool is more expensive North of the border than usual. But at least in Canada, there are no tariffs or import fees. We also have customers in Europe and UK, and exchange rates are severe there, also. The Euro and USD are at parity, which has not happened in 20 years. The dollar has been strong against the British pound for about 5 years, but it hasn't been this strong since 1985. UK and the Eurozone will add import duty to the cost. Plus, they have VAT, which, in the case of imports, is added at time of import. The VAT is included in the purchase price of domestic goods, so it's not noticed as much.
Here in the USA, as everyone knows, prices are really jumping. We purchased a lot of our notions (basically, everything besides our Fabric) well in advance, so we got lucky there. But we're getting price-increase notices from our suppliers. Just one example: cord locks jumped from 18 to 25 cents, which is 39%.  Lead times have also lengthened. Now would be a great time to import notions, because we'd get a much wider selection of notions, shorter lead times, lower prices (We could import cord locks for about 10 cents.) and the benefit of a very strong dollar. But we won't import anything except ideas and advice from our many friends around the world.
2022-09-17 ... And the Winner is:  WHY WOOL MATTERS
Until Alex flagged to me today a post from the International Wool Trade Organization, I'd never heard of the London Fashion Film Festival. The award for Best Fashion Documentary of the Year was won by WHY WOOL MATTERS, a 20-minute film from The Campaign For Wool, a British-led effort to promote woolen clothing. Congratulations!!

The Patron of the Campaign for Wool is King Charles III, who is very dedicated to carbon sequestration and other means of reducing atmospheric CO2. And perhaps that is the reason the film has nothing at all to say about the performance of woolens. Or perhaps the film was put together specifically for the fashion industry, which is increasingly concerned about various environmental topics but -- strictly my own perspective here! -- seems to regard the performance of clothing as irrelevant. Even so, why not take 30 seconds out of 20 minutes to tout wool's performance?
WOOL STOMPS THE COMP! Maybe the next film will highlight performance!
2022-09-16 ... Padula on How Show Grow Wool
Advisor Bob Padula is a lifelong sheep professional. He has worked with sheep pretty much his whole life, he's studied them in academic settings and in the labs and on the ranges. He has been breeding his own stock for decades, and he's been a consultant to the industry for since the 1990s.
Debby and I visited Bob at his PM Ranch in Minnesota in mid-July. After we (tried to) help Bob and his family weigh, vaccinate and medicate the flock, Bob sat down for a 9-minute video about how and why different types of sheep grow wool with different characteristics.
THANKS for this, Bob! The video is not very good -- sorry!! -- but it is definitely clear enough for the info to come across.
As usual, I learned a great deal. And, as usual, I learned that what I just learned is only a small fraction of what there is to learn. We really appreciate Bob sharing his knowledge and BIG THANKS also to Bob and his family for their hospitality.
2022-09-15 ... Anorakki ... Fabric to NYC
Advisor Anton Kalland is Finnish (he has great skills in English and Swedish, as well as his native Finnish) and a professional outdoorsman. A couple of days ago, his Instagram post, showed his Anorak and he used the tag #Anorakki. I asked him about this, and he explained Anorakki is the Finnish version of the Greenlandic Annoraaq, which Anton said is the original version of the word. It would be great to hear the word spoken as it would have been pronounced centuries ago!
Thanks, Anton, for a cool post and the etymological lesson. An unexpected type of info from an Advisor!
Today we deliver some Batch 6 MidWeight Lynx Pattern Fabric to Factory8 in NYC to make some more Anoraks. We made the MidWeight Lynx Anoraks a few months ago but we need more. Not much Batch 6 Fabric left. Batch 7 coming, but Batch 7 is all FullWeight, so we'll shortly be pretty well out of MidWeight until Batch 8 (which is all Drab).
Right now, the truck is loaded with brush cleared from the yard. We loaded the truck before we knew we were headed to NYC this morning. So ... the first order of business is to get the brush out of the truck!
2022-09-14 ... Alternative Uses of Wool Fiber
Below is a link to a 2018 paper published by the University of Vermont. We used to have millions of sheep in New England, but now, not many. Not surprisingly, the people are struggling to find uses for their wool. You can see prices as low as 7 cents per pound ... We pay about $3.00 per pound, but we're buying very select fiber.
The linked paper talks about using wool for soil treatments, wall insulation and the like. My own take is that we need to prove to more and more people that the best wool makes fantastic clothing. And we will very soon need to raise a lot more of the great wool. Soil treatment may still be a good use for the nasty-bits of wool (from the face, back-end, belly, lower legs), but we need to focus on the great stuff!
This paper was published by University of Vermont Agricultural Extension and funded by the State of Vermont and the United States Department of Agriculture.
2022-09-13 ... Short Video with Jacob Long at American Woolen
American Woolen Company, of Stafford Springs, Connecticut, is vital to WeatherWool. We've known Jacob, the owner, and Giuseppe Monteleone, Plant Manager, since 2018, shortly after Woolrich USA shut down. Without American Woolen, we could not make our Fabric. I visited AWC last Thursday to pick up some Fabric, and did a quick video with Jacob. What I particularly love is Jacob's passion for QUALITY MANUFACTURE and an AMERICAN WOOL ECOSYSTEM.
 Jacob Long, proprietor of AWC, talks about American Woolen Company and America's Wool situation.
2022-09-12 ... It's ALL LYNX PATTERN! ... WarriorWool for NSW
American Woolen and Material Technology and Logistics, the companies that spin our yarn, weave and finish our Fabric, specify our Fabrics by numerical codes that not only designate the exact Fabric, but also convey information about the Fabric construction. It works for the pros at the mills, but I kept having to match their codes with my only descriptors, such as MidWeight Drab. So I asked if they could append, for example, MW-DRAB to L1619-100-3. So the new code is L1619-100-3_MW-DRAB. I really appreciate this because the numerical codes still have not sunk in for me, and I keep having to look them up, even though we've been working together for a long time. I guess it's kind of like metric ... I've been using metric since high school, but when a customer tells me "5 degrees Celsius", I still need to convert to "41 Fahrenheit".
Accommodating my old brain has had an interesting bit of fallout. All of our Fabrics are woven in Lynx Pattern, because the structure created by weaving in Lynx is what gives the Fabric the performance characteristics we require. And so the mills regard all our Fabric as some variety of Lynx. And now I see them using my descriptors in their own correspondence. For example, they refer to our Duff Fabric as FW-LYNX-DUFF ... meaning FullWeight Fabric woven in Lynx Pattern using only Duff-color yarn. ...... I like this more than an adult should, probably. But I don't care.
Just got off the phone with an extremely pleasant gent from a Naval Special Warfare unit who purchased a WarriorWool Anorak for himself.
For earlier 2022 Entries, please click here. The size of the Blog page exceeded system capacity, so an overflow page is necessary.