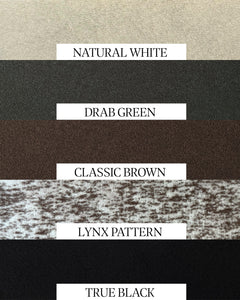 WeatherWool FullWeight and MidWeight Merino Jacquard Fabric
Description
Right now, we have available:
FullWeight Black (only a yard or two)
FullWeight Drab and MidWeight Drab (but not for long ... about to make garments)

Natural White (Cream) ... The natural sheep color ... off-white, like cream.  FullWeight and MidWeight ... but will soon be allocated for garments

We will have quite a bit more Fabric with Batch 9, already in process, but it will be late 2023 before we have much more of that, although we won't be making any Fabric in the Drab Green.
Fabrics can be backordered without obligation (price set to 0) from this page.

WeatherWool Merino Jacquard Fabric is $125 per running yard. A running yard is always 36 inches (91.4 cm) long. The width of the bolts of Fabric varies from 52 inches (132 cm) to 55 inches (140). All Fabrics have about .75 inches (almost 2 cm) of selvedge on each side. The exact width varies a little from bolt to bolt even within a batch of the same Fabric because the bolts are "finished" separately.

Orders for more than one yard are normally shipped as one piece.
(Incidentally, when people reference "weight" of woolen fabric, at least in USA, they are almost always referring to the weight of a running yard. But there is no standard width to a running yard, so comparisons are meaningless unless the weight is quoted as "ounces per square yard" (opsy) or "grams per square meter" (gsm). But anyway, weight does not indicate performance. Better fiber and enhanced weaving can offer greater performance and less weight.)
For detailed info about our Fabric please visit:

When we founded WeatherWool, fabric that met our specs was simply not available for purchase.  So we spent three years developing our own unique 100% Merino Jacquard Hardcore Luxury® Fabric, the foundation of our company. WeatherWool Fabric is chosen for luxury and fashion in the cityscape ... and chosen for performance in the most demanding of field conditions.
Selvedge, also known as selvage, is the "extra" fabric running along the edges of the entire length of a bolt of Fabric. The selvedge (originally "self-edge") contains the same premium yarn as the rest of the bolt, and it can be used, although it looks a little different. We used the selvedge in our Poncho, for example, and we used the width of the entire bolt of Fabric. Selvedge Denim has become extremely popular although this is a different meaning of the word Selvedge.
Fabric needs to be ordered by the whole yard (which is 36 inches / 91.4 cm). If you want partial yards, please phone.

Our Fabric is the heart of what we do, and has gained the attention of other clothing makers.  Whether you are a customer looking for a couple yards or a company thinking about a large quantity, please contact us directly if you are interested in using our Fabric. We have lately begun a Collaborations page on this website, and look forward to working more with others. Whether you are amateur or professional, we love hearing people's ideas for our Fabrics. 
Thank You! --- Ralph
23 September 2023 --- Ralph

The REVIEW feature below, which enables anyone to publish a review, was added in March of 2022.  A lot of people have bought a yard or two or three of our Fabric. And some people have bought a lot more than that. We would get a kick out of some Reviews here!