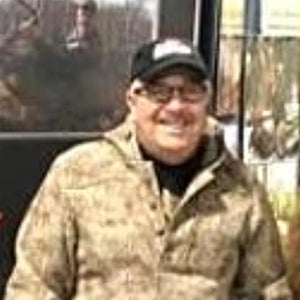 Dick Scorzafava, The Radical Hunter
PROFESSIONAL OUTDOORSMAN
Westfield, Massachusetts
Contact:  scorzafava@aol.com
The Radical Hunter Television Show on The Pursuit Channel
Specialties: Outdoor Education, Writing, Lecturing, Nature, Hunting, Travel, Bear Hunting, Deer Hunting, Scent Control, Scent Lures, Optics, Bows, Arrows, Rifles, Knives, Wild Foods and Cooking, Fishing, Fly Fishing
"I have honestly never ever promoted a product that I didn't totally believe in and use myself in the bush to my friends and anyone else in the hunting community!! WeatherWool manufacturers fantastic products of the finest premium quality wool that will keep you warm in all conditions and will last a lifetime with the proper care! I'm actually excited to introduce everyone I know to WeatherWool because I know for a fact once they wear it they will love the product as much as I do and want to tell all their friends!!" ... Dick Scorzafava, The Radical Hunter 
Dick Scorzafava is a respected hunter, author, seminar speaker, and award winning outdoor writer. Growing up next door to a state biologist in Massachusetts, Dick spent most of his teenage years participating in studies on both deer and bear. Today, Dick continues to hunt deer and bear across North America and other species around the world as the host of The Radical Hunter television show. Dick has authored three critically acclaimed hunting books: Radical Bowhunter, Radical Bear Hunter and Spies in the Deer Woods. And, he is the editor of Bear Hunting Magazine and the bowhunting editor of Woods and Waters USA. Dick has authored over 1500 articles in a variety of the top outdoor publications.
When Dick isn't hunting for bear and deer or writing, he is a seminar speaker. Dick conducts over 75 seminars across the country annually where he represents, as a pro-staffer, many of the industry heavy-weights making him one of the most sought-after speakers in the country.
Dick is a member of the Outdoor Writers Association of America, New England Outdoor Writers Association, Pope and Young Club, Boone and Crockett Club, Safari Club, Professional Bowhunters Society, and lifetime member of the NRA. He was inducted into the Archery Hall of Fame by the Massachusetts Bowhunters Society in 1994.
This past year marked the introduction of the all new Dick Scorzafava Radical Hunter signature series products by the following manufacturers: Alpen Optics (binoculars and rifle scope); Code Blue (complete line of bear attractants); Savage Arms (Bear Hunter rifle); and Schrade Knives (skinning knives).
In the picture, Dick is standing in front of his booth at one of his many outdoor-show appearances. He is wearing his Anorak in Lynx Pattern, and stands beside his enormous Nine and a half foot Brown Bear taken in Kamchatka, Russia
17 June 2020