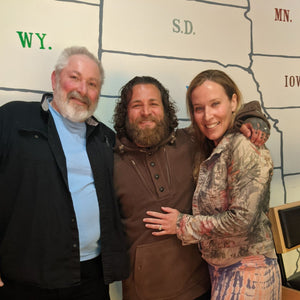 Daniel Vitalis
Modern Day Hunter-Gatherer & Host of the WildFed TV Show on Outdoor Channel
Daniel Vitalis is the host of
WildFed
— a culinary adventure
TV series
and
podcast
about hunting, fishing, foraging, and turning wild ingredients into delicious meals.
For ten years he lectured around North America and abroad, offering workshops that helped others lead healthier, more nature-integrated lives. A successful entrepreneur, he founded the nutrition company
Surthrival.com
in 2008. Most recently, he hosted the popular podcast
ReWild Yourself
.
He's a Registered Maine Guide, writer, public speaker, interviewer, and lifestyle pioneer who's especially interested in helping people reconnect with wildness, both inside and outside of themselves.
After learning to hunt, fish, and forage as an adult, Daniel created WildFed to inspire others to start a wild-food journey of their own.
Headquartered in the Lakes Region of Maine, he lives with his beautiful wife Avani and their Plott Hound Ellie.
Check out the WildFed TV show on Outdoor Channel on Monday evenings at 7:30pm ET. If you don't have access to cable, you can also stream the show on the FrndlyTV app.

Instagram:
@DanielVitalis
+
@Wild.Fed
PHOTO:  Daniel (center) and Avani Vitalis with WeatherWool Founder Ralph in June of 2021.

The video is the trailer for WildFed, Season 2, Episode 8, premiering 11 April 2022.
8 April 2022 --- Daniel