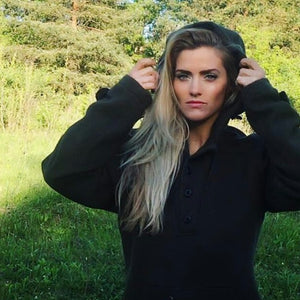 Melissa Backwoods Miller
OUTDOORS PROFESSIONAL
Michigan, Fenton (Central Michigan)
Email:  MelissaMiller@BladeMag.com
Twitter: @melissabackwood  (no "s" at the end)
Facebook:  https://www.facebook.com/melissabackwoods/
Website:  MelissaBackwoods.com 
Instagram:  https://www.instagram.com/melissabackwoods/
IMDB: 
Specialties: Blades.  Ms Miller is a university-level instructor of outdoor skills ... wild foods, nature appreciation, plant identification, survival, tracking. And she is a living example of mental strength, determination and a positive attitude.
Melissa came to recognition after appearing in Discovery Channel's primitive survival challenge reality show, "Naked & Afraid." In the Season 7 finale "Worlds Collide", she survived 3 weeks in Amazon Jungle with only a fishing line, knife, and fire starter. After achieving success in her 21 day challenge, Melissa was asked back to compete in the "Naked & Afraid XL" challenge where she had to survive 40 days in the Selati Basin of South Africa primitively along with 12 other survivalists using her knife & her traditional bow. She was asked back to the show for a 3rd time where she battled the Florida Everglades for 3 weeks with her partner, equipped with only a knife and a fire rod. Melissa is also known in the outdoor and knife industries and for her presence on social media as "MelissaBackwoods."
Melissa graduated with high honors from The University of Michigan, obtaining her Education Degree in April 2016. Upon graduating, she decided that the public school system was not a right fit and that her passion was in environmental education. For 3 years she worked full-time at For-Mar Nature Preservation & Arboretum in Burton, MI, where she taught natural sciences to all ages and led the nature programming for senior citizens and special needs students. She taught wilderness survival courses and day camps where she began practicing primitive skills regularly, studying indigenous cultures, and refining her wilderness survival skills. She focused on primitive trapping, fire making, native fishing methods, archery and foraging wild edibles. She was self-taught in survival and gained her skillset through reading, watching videos, and spending a lot of time in the woods. Inspired by the techniques of indigenous cultures, Melissa soon started to blog and create instructional videos about various primitive survival methods. A self-proclaimed "nature nerd", Melissa discovered that utilizing natural resources the way Native Americans had done in the past connected her to nature in a powerful way.
After her appearance on Naked & Afraid, Melissa became a brand influencer with Discovery Channel and hopes to continue her working relationship with the company in the future. In October 2018 she officially partnered with
BLADE Magazine
, the World's Leading Knife Publication along with the world's largest knife show,
BLADE Show
. She has also recently partnered with
Recoil Magazine
, and
Recoil OffGrid
. Melissa currently spends much of her time traveling the country, visiting influential names in the industry. She creates digital content, manages social media, and does graphic design for the publications she works with.
Melissa is passionate about nature conservation & education, traveling for work, and continually growing her resume within the outdoor and knife industry. For now, she continues to work in fields she is passionate about and hopes to build strong relationships with the people she meets along the way. Home-based on the countryside of Southeast Michigan, she is currently embracing the non-confining nature of her job, logging many miles in her camper van and hiking new landscapes in her free time. For now, Melissa is embracing her nomadic lifestyle and continuing to do the things that bring her happiness.
Melissa has her own page on our website. 
19 June 2020