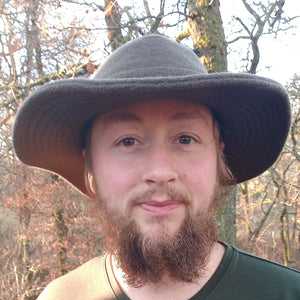 Will Cooke
WANDERER, Walking for a Smile
Will Cooke leads a mostly nomadic lifestyle, carrying all his possessions

Western Europe, New Zealand

walkingforasmile@gmail.com ... Please note that Will sometimes goes months at a time without replying to email ... sometimes on retreat, sometimes wandering in the bush.
He was reared in a famous former wool milling town and now World Heritage site called Saltaire in West Yorkshire. For the first 25 years of his life he lived a fairly conventional life. Then inspired by the life and work of Peace Pilgrim around a decade ago he shut down the life he had created, gave all his stuff away and set out on a really long walk with the few possessions in his bag and no money. Vowing not to beg and to be supported only by that which is freely given. Walking took hold of him and over the years he has walked many thousands of miles in both the UK and New Zealand, walking for up to 5 months at a time on trails like the Te Araroa.
In amongst thru-hikes and penniless pilgrimages he lived as a Buddhist monastic, spending around three years ordained and training in Western Buddhist monasteries of the Thai Forest Tradition, again based in either the UK or NZ. This tradition was born from a group of hardcore and austere monks who lived very simply in the unforgiving forests of Thailand, eating only the food put in their bowl and practicing meditation intensively. Often doing a practice called Tudong where they would walk great distances and live outside. During his time in the monastic form he was able to touch into this ancient way of life. On occasion having long periods of retreat, living and sleeping outside for months at a time on a 1 metre by 2 metre wooden platform with only a mosquito net and umbrella for protection, meditating day and night without distraction, either fasting or eating one meal a day which was generously offered by supporters.
Even before his time in monastacism, he gave himself to the practice of solitary meditation retreats in nature, and over the years he's spent many, many weeks living alone in secluded spots in forests and in nature, being completely alone for up to 2 months at a time, sitting through sunshine and snow.
It's this combination of long and arduous walks and prolonged periods sitting still in meditation that had him arrive at the design ideas for the Trail Pants and Trail Poncho. Living in and close to nature, transitioning from high-intensity movement to sitting still for hours, having to endure changing weather and temperatures and often without ready access to heating, washing facilities, resupply or the ability to replace broken or failing gear, the ideal fabric one arrives at is wool. And from his research, the finest producers of wool seem to be WeatherWool. So it is he reached out.

I recently [April 2020] reached out to Ralph and WeatherWool with some design ideas for garments [Trail Pants and Trail Poncho, which we may eventually make!] born from the unusual lifestyle I have lived for the last decade. Ralph was very receptive to these ideas and asked if I would write a description of my background and experience to give you an idea of where the design ideas come from.
These designs are born from a love of simplicity, minimising, multifunctionality, and durability, and from experience gained from being in nature in dynamic ways for extended stays, trying to create two garments that are highly functional, applicable and dependable year-round. I hope you like them!
1 January 2021 by Will
Updated slightly 27 August 2021 by Ralph