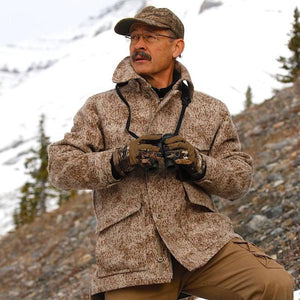 Ron Spomer, Ron Spomer Outdoors
OUTDOORS PROFESSIONAL
Idaho, and worldwide
Please contact Ron via his own website, RonSpomerOutdoors.com
Specialties: Shooting, Fishing, Hunting, Photography, Writing, Backpacking, Travel, Adventure Tourism and ...
Ron does a lot of product reviews on his Youtube Channel. Here is a review of a Swarovski Scope, with Ron and his All-Around Jacket really well presented!
The following narrative is copied directly from Ron's website. Please click here for more pictures and information about Ron on his Media page on our own website.
"For 36 years I've had the good fortune to photograph and write about my passion – the outdoor life. Wild creatures and wild places have always stirred me – from the first flushing pheasant that frightened me out of my socks in grandpa's cornfield to the last whitetail that dismissed me with a wag of its tail. In my attempts to connect with this natural wonder, to become an integral part of our ecosystem and capture a bit of its mystery, I've photographed, hiked, hunted and fished across much of this planet, seen the beauty that everyone should see, survived adventures that everyone should experience. I may not have climbed the highest mountains, canoed the wildest rivers, caught the largest fish or shot the biggest bucks. But, perhaps like you, I've tried. And that's the essential thing. Being out there, participating.

Each of us has the right to participate in Nature's endless circle of life as active partners, not just distant observers. Hunting is not merely going out to shoot an animal. Nor is it a contest to see who can bag the finest specimen. It isn't a game reserved for the gifted athlete. Hunting, fishing, picking blueberries – these are the human animal's basic right. For many it's a way of life, much as it has been for most of human history.

Hunting / gathering is Everyman's way of connecting with true freedom, the freedom to interact with Earth as naturally as does a wolf, falcon or chickadee. We, too, are integral parts of Nature. Hunting is our heritage, but also our responsibility and the bridge back to our roots.

Over the years I've tried to communicate this special relationship in my writings and photography, but the media are limiting. Word's can't describe everything. Photos can't show everything. Video can't capture everything. But they can inform and inspire. After that it's up to you. You must act.

Friends, we've been granted the gift of a pulsating, vibrant planet alive with more species than anyone could see in a lifetime. It's ours to explore for a few short years. Why squander the opportunity?

If your heart leaps at the sight of a bear and your spirit soars with the flight of a goose, join me here, in my magazine articles and books and on my TV episodes as we discover our roles, responsibilities, adventures and thrills as Nature's hunter/conservationists."
Here is a link to a story Ron published in December, 2018, about life, bird dogs and game birds at his off-grid ranch in the Northern Rocky Mountains.
27 August 2021