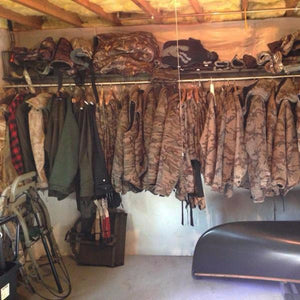 Jim Olson from Connecticut
ADVISOR -- CUSTOMER
Jim used to be listed as "Jim from Connecticut" because he didn't want his full name on the website until after he retired from government service. Well ... now he is retired.  So I changed his entry to "Jim Olson from Connecticut".

Jim truly enjoys talking gear and clothing and he'll be glad to speak with you. (And holy cow, he has a lot to say!)
Specialties:  Clothing, Gear, Guns, Optics, Upland, Dogs
Pictured here is part of Jim's closet, showing just some of the clothing he's purchased over the years. Mostly Jim has gone for wool, but he has tested synthetics, also. Jim has owned and tested a wide variety of outdoor clothing and can give detailed comparison information on WeatherWool versus all kinds of other woolens and some of the newer synthetics as well. And he is a fun, friendly guy to talk to.
Jim shares our philosophy that the best gear is a pleasure to own and to use, and in the long term, is also a great investment. Jim has several pieces of WeatherWool, one of which is shown in the photo of his closet ... our All-Around Jacket with Double Hood in Lynx Pattern is near the left side of the picture.
Jim has been a customer since before WeatherWool was available, when we were offering woolens made by others. So he was very interested when we began work on WeatherWool, and he has been wearing WeatherWool since our early days. But we never talked all that much until the summer of 2017, when he became an Advisor. I was pretty shocked by Jim's knowledge of woolens, and that prompted him to send me the accompanying picture of his closet.
Our most enthusiastic customers and Advisors are often what I refer to as gear-freaks and clothing-freaks. Some gear freaks don't pay that much attention to clothing, but Jim is very focused on what he wears, and has invested huge time, thought, effort and money into his quest for better and better clothing.
It's an honor for us that someone as dedicated to fine outdoor clothing as is Jim feels we are the top of the field, and has volunteered to represent WeatherWool.
You can find a little more information about Jim here.
16 September 2023 --- Ralph