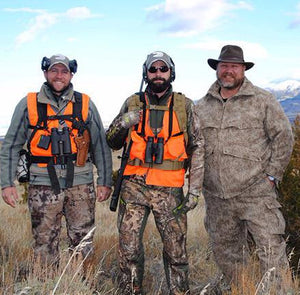 Heath Gunns, Honored Veterans
OUTDOORS PROFESSIONAL
Idaho, Washington
Heath is mainly available via email because he is on the road so often ... hgunns@honoredveterans.org .
Specialties: Veterans Affairs, Hunting and Traveling Worldwide, Clothing and Gear, Weather, Law Enforcement
Heath left a career in Law Enforcement to join Honored American Veterans Afield, which was organized in 2007 "by a Committee of shooting sports industry executives to help the healing and re-integration of disabled veterans and injured active military back into normal American life through participation in outdoor events." Heath's role is to host the Veterans on outings across the USA and around the globe. Prior to his work in Law Enforcement, Heath had experience in the manufacture of clothing, and he immediately understood what WeatherWool is all about. Heath has been wearing WeatherWool since early in our going and he has worn our clothing in a lot of places under a wide variety of conditions.
There is more info and pics about Heath on his Outdoor Professionals page.
19 June 2020