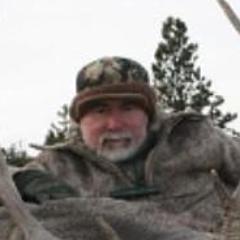 Darrell Holland, Holland's Long Range Shooting School
OUTDOORS PROFESSIONAL
Oregon (Powers)
541.439.5155, BestRifles@gmail.com
Specialties:  Shooting, Hunting, Survival, Teaching Outdoor Skills, Gear
Darrell is an All-Around Outdoorsman who has been wearing WeatherWool since shortly after we made our first production pieces.  Darrell has helped us a lot with ideas and advice and encouragement.   Darrell is a Master Riflesmith, Shooting Instructor, Survival and Outdoor Skills Instructor and more.   He also runs Holland's Long Range Shooting School   Eventually we will be collaborating with Darrell on a custom Vest.  Darrell has been an Advisor since May of 2017, when we first began the program.
Click for Darrell's Review of WeatherWool on Youtube. I think this was the first review of WeatherWool.
In the picture, Darrell is wearing one of our first All-Around Jackets, in Lynx Pattern. We pride ourselves on Versatility, but Darrell really pushed the envelope when he told me he'd be buried in his All-Around Jacket!
13 April 2022